Community of Action
Invites You to Act!

South Lake Elementary School
December 1st, 2020, 1:15 PM join AIM zoom meeting, 1:30 PM Council hearing and vote begins
Temple Beth Ami has had a long-standing relationship with the families and staff at South Lake Elementary School. We have taught parenting classes and art classes. We have sponsored backpacks and food. Through Action in Montgomery, we have also been fighting alongside South Lake parents for more structural change – a new school building that is safe and provides a respectful space for 897 children and their 120 teachers. Many of you have written persuasive emails, made phone calls, joined us in small group meetings with councilmembers, in virtual tours of the school with councilmembers, or watched as our Rabbi Weiss spoke at a press conference at the beginning of Sukkot at South Lake. We welcome you to join us on Tuesday, December 1st at 1:15 PM virtually to watch the public hearing here.
We will also hold an AIM watch party via Zoom. Participants should open two windows, one window with the County Council hearing and a second window with the Zoom link. We'll keep ourselves on mute in the Zoom meeting, but can use the chat function. Except when they vote. We're going to unmute ourselves and make some noise! To register for the AIM South Lake watch party, click on this link.
Working Towards Racial Equity in Montgomery County
MCPS Black and Brown Coalition for Education Equity and Excellence
Community of Action members Sue Fox and Susan Stern participated in a recent meeting sponsored by the Jewish Community Relations Council (JCRC) at the invitation of Janice Rosenblatt, currently serving as the group's Maryland Government and Community Relations Associate.  The meeting was part of the JCRC's monthly forum of social action chairs convened to discuss current issues.
The October meeting focused on equity in education and included a presentation by Byron Brown, co-founder of the Black and Brown Coalition for Education Equity and Excellence and Chair of the Education Committee and parents Council of the NAACP-MC.  (For more about the Black and Brown Coalition, see the Community of Action Update on this website.)
Sue and Susan presented a summary of how Temple Beth Ami has worked over the past five years to establish a supportive relationship with South Lake Elementary School in Gaithersburg that has included a variety of activities from gathering school and art supplies for students to providing important advocacy work at the local and state level.
Summarizing the presentation, a template for other congregations to use to initiate a relationship with another public school in the county has been created and made available. For further information, contact Susan Stern ssterndragon@gmail.com 
Click here to learn more about MCPS' Educational Equity and Enrichment Hubs and what you can do to help.

Literacy Council of Montgomery County Virtual Book Talks
Click here to learn more about this series of conversations and for future event dates/speakers.

Thank You, Thank You, Thank You!
To Sue Wohl for all her voting education efforts to let us know how, when, and where we could vote in MOCO and her handy VOTING FAQs that kept us all informed. 
To all our congregants (and their friends) who wrote more than 3,000 postcards to eligible voters in voting restrictive states as part of our Reclaim the Vote campaign with the Religious Action Center and Center for Common Ground. In total, the Religious Action Center cohort (US!) reached 315,000 voters!

We just distributed 3,000 postcards to help mobilize the vote for the Georgia Senate run-off!  Thank you to all of you who are writing out those postcards!!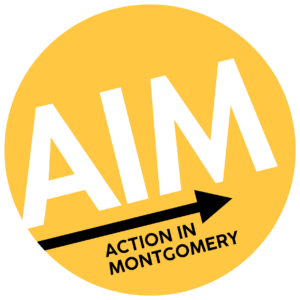 Please join us virtually for Action in Montgomery's (AIM) 20th Anniversary celebration on Saturday, December 5 at 7 PM. AIM is a community organizing network of leaders in over 30 churches, synagogues, mosques, schools, and other non-profits that have been working to create positive change and make our county a better place to live for all. The program will be an evening of inspiration, storytelling, and music. This is a great way to hear about AIM's work in renovating recreation centers in historic African American neighborhoods in Montgomery County, the passage of the Maryland Dream Act, and the establishment and funding of the Housing Initiative Fund which is dedicated to the construction and preservation of affordable housing. It will be a fitting way to celebrate what we hope will be a victory at the County Council on December 1.  Register here.