Voting, Voter Registration, Civic Engagement and Advocacy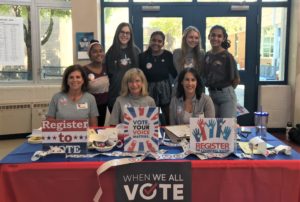 The Community of Action's history of Civic Engagement began with the well-received Candidates' Forum held in June 2018 for County Executive and State Delegates to the Maryland House. It has continued with supporting Voter Registration drives in Montgomery County at Montgomery College and area high school campuses, prior to the COVID Pandemic. In addition, along with the Religious Action Committee (RAC) of the Reform Movement, Community of Action has supported voting rights bills now before Congress. By far its biggest initiative will be coming up in 2022 beginning with the June primary races for candidates for county, state and national positions affecting the congregation. Learn more about this work and get involved!
Board of Elections news: Additional Early Voting Centers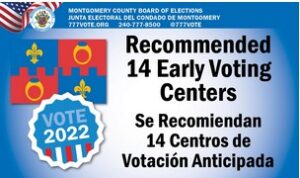 For 2022, Montgomery County expects to expand to three more Early Voting Centers. Information on these Early Voting Centers will be shared as it becomes available. We will also be returning to most of the 230+ Polling Places used in 2018.
A ballot application will be mailed to every registered voter beginning in February. The anticipated mailing date for most voters is February 1, 2022 but they will not all be mailed on that date. Questions concerning these applications should be directed to the Board of Elections at 240-777-8500.
National Voter Registration Day/September 20, 2022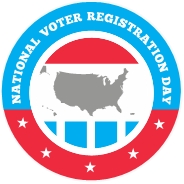 Again this year, Community of Action will partner with other National Voter Registration Day sponsors to support making sure our democracy works. Here are a few facts that tell why this day is important:
Over 4 million Americans will turn 18 and be eligible to vote this year.
As many as 30 million Americans will move and need to update their voter registration. Are you among this group?
An average of 2 million Americans will get married and many of them will change their names and need to update their voter registrations. Does this affect you or someone in your family?
Worst of all, millions of Americans may be purged from the voter rolls and not know it. Take a minute and check your own registration information by going to elections.maryland.gov
Watch for more information about opportunities to register voters in Montgomery County.
Voting Rights Advocacy 

On Wednesday, July 28, over 20 TBA members participated along with members from 20 other Maryland Jewish congregations in a virtual visit to the offices of Senators Ben Cardin and Chris Van Hollen to lobby for their support for the For the People Act and the John Lewis Voting Rights Advancement Act. Congregant Sue Fox was one of four presenters. She spoke eloquently about how her work with refugees, who are so excited to come to the US to gain freedoms they did not have in home countries, reaffirmed her commitment to democracy and voting rights. The group pressured the staff of both senators to convey to them the importance of passage of these bills and urged their strong consideration of eliminating the filibuster to advance the voting rights agenda.
November 8-11 TBA members participated in the RAC's campaign to call Maryland's Senators Chris Van Hollen and Ben Cardin to urge them to reform the filibuster and bring the Freedom to Vote bills to a vote. This outreach was coordinated by Dina Torok, TBA's new Freedom to Vote coordinator.