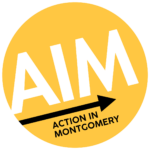 AIM's Year-End Report Highlights Accomplishments During 2022
Action in Montgomery (AIM) is a broad-based community power organization rooted in Montgomery County's neighborhoods and congregations. We are non-partisan, multi-faith, multi-racial, and dedicated to making our county and state a better place to live and thrive (Mission statement from AIM website).
Temple Beth Ami has worked in partnership with AIM to support several of its initiatives especially those related to South Lake Elementary School. Temple members have provided testimony at both the County and State level as well as supported initiatives through letter writing campaigns and attendance at the group's ACTIONS.
Below is an edited summary of AIM's Annual Report:
Expanded Afterschool Programs: Excel Beyond the Bell Elementary was expanded to 14 schools by January 2023, serving hundreds of low-income students and families every weekday with academics, enrichment, a hot dinner, and parent organizing to address local issues.  South Lake was one of two schools in 2017-18 to pilot the program.
Increased Affordable Housing: The County Council and Executive, with support from AIM, increased funding for subsidizing and developing affordable housing to over $120M.
Expanded Dental Care: AIM secured $100,000 in specialized dental care for uninsured adults in Montgomery County.
Delivering for Local Communities: Tenants across Montgomery County have successfully organized to win local victories on community safety, restoring bus service, building renovations, and more!
Police Reform: AIM leaders won improvements to the new Police Accountability Board, board member compensation, funding for full-time board staff, and ensuring the board reflects the diversity of the county. 
Goals for 2023
Universal PreK
Dental Care for the Uninsured
Transit-Oriented Affordable Housing
Increased Access to College Funding
Housing Quality and Stabilization for Low-Income Residents
Expanded Afterschool Programming
Climate Justice–Equitable Implementation of Green Solution
Click here to read the full report. 
On March 12, AIM held its first Action of 2023  to share these goals with Montgomery County Executive Marc Elrich and the County Council. The meeting represented the first in-person action since 2020. For a recap of the meeting's highlights visit here.