Rentals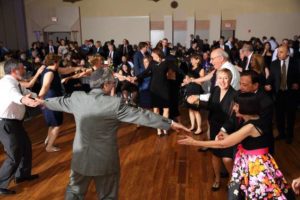 Temple Beth Ami facilities are available for rental by Temple members, nonprofit organizations, and non-members. We are so pleased that you are considering Temple Beth Ami for your event and look forward to helping you in any way we can to make your event a success.
Rental rates and polices can be found here. Please carefully read the information on these pages, then download the rental agreement package, complete it, and return it to the Temple office along with your deposit check. 
Please contact Diane Ferraro at idf@bethami.org or 301-340-6818 If you have any questions.
The rental rates and fees are as follows.




As necessary, they are subject to change.




(As of December 1, 2017.)

Social Hall

| | | | |
| --- | --- | --- | --- |
| Social Hall Rental Fees* | Members | Nonprofits | Nonmembers |
| Kinneret (Large) Social Hall and Main Lobby | $1250 | $1850 | $2250 |
| Yarden (Small) Social Hall and Chapel Lobby |  $1000 | $1400 | $1800 |
| Courtyard (between social halls)  | $500  |  $800 | $1000 |
| Rova (Backyard, includes Yarden)  | $1250 | $1850 | $2250 |

Rental Fees include 4 hours of room use, plus 2 hours set-up and 1 hour clean-up, for a total of 7 hours.  Each additional event hour is $150/200/300 hr. and each additional set-up or clean-up hour is $100/150/200 hr; partial hours are billed as a full hour. Additional rental time for an afternoon reception cannot begin before 7:30 am; additional rental time for an evening reception cannot begin before 2:30 pm; both depend upon availability of the room. Any rental/overage after 2:00 am is charged as double time. Back to back rentals require that all the afternoon rental rooms are turned over by 5:30 pm, and the evening rental cannot have access until 5:30 pm.

| | | |
| --- | --- | --- |
| Social Hall Premier Package | Members | Nonmembers |
| Kinneret (Large) Social Hall and Main Lobby | $1600 | $2700 |
| Yarden (Small) Social Hall and Chapel Lobby |  $1300 | $2300 |
| Courtyard (between social halls)  | $800  | $1500 |
| Rova (Backyard, includes Yarden)  | $1600 | $2700 |

The Premier Package rental is a 10 hour total package to include set-up, clean-up and party time. This rental can only be for evening and can't be scheduled back to back with another rental.

* These fees are for separate meetings, programs and events only; they are not applicable for luncheons or dinners or with rental of either social hall or sanctuary/chapel.

---

Stage

The Stage is 12ft deep X 16ft wide X 16 inches high: rental fee of $400/members, $600/nonmembers

---

Extended Kiddush:

Anything more than wine and challah in the lobby for up to 1 hour

No rental fee but security deposit and signed contract are required. Members only                                                                             
This free, one hour Extended Kiddush allows for set-up only between 10:30 am and 12:30 pm, one hour of social time, and clean-up to be completed in the one hour immediately following (completed by 2:30 pm). The Temple will supply a total of 12 tables (5 foot round and/or 6 rectangle) and chairs. This is not meant to be a full sit-down lunch; food is brought in on platters; no kitchen usage allowed, other than water and ice.

Expanded Extended Kiddush:

Up to two hours with additional set-up.  $150.00.  Allows for full sit-down set-up as well as use of the kitchen for heating, plating, etc.  This is to allow for extra seating and/or extra time; it is not a full catered luncheon. Anything over the two hours allotted will be considered a full rental and will be charged accordingly.

When there is an afternoon service scheduled, only an Extended Kiddush or Expanded Extended Kiddush can be held following the morning service.

---

Shabbat Dinner (Yarden Social Hall or Library/Lounge) MEMBERS ONLY :

| | |
| --- | --- |
| Shabbat Dinner (Yarden)  | $400 |
| Shabbat Dinner (Library/Lounge) | $200 |

This fee includes 1 hour of set-up, 1½ hour dinner, and 1 hour clean-up for a total of 3½ hours. Dinner must end prior to later service or begin after the early service is completed.

---

Weddings (Ceremony Only)

| | | |
| --- | --- | --- |
|   | Members | Nonmembers |
| Sanctuary | $500 | $700 |
| Chapel | $300 | $500 |

This fee includes 1 hour set-up/photography, ½ hour ketubah signing, 1 hour wedding for a total of 2½ hours.

Wedding Plus Reception in Social Hall

| | | |
| --- | --- | --- |
|   | Members | Nonmembers |
| Sanctuary or Chapel | $2000 | $3200 |

This fee includes:12 hours total package on the day of the wedding to include set-up, photography, ketubah signing, wedding, cocktail/party time and clean-up..  There are additional charges for rehearsals or photos at other times, and they must be arranged in advance with the Temple Administrator.

---

Baby Naming/Bris

| | | |
| --- | --- | --- |
|   | Members | Nonmembers |
| Ceremony only (Sanctuary or Chapel) | n/a | $100 |
| Ceremony plus reception (Yarden or 1/2 Kinneret) | $400 | $600 |

Reception includes 1 hour of set-up, ½ hour clean-up, 2 hour social time for a total of 3½ hours.

---

Additional Facility Usage Hourly Fees*

 

Members

Nonmembers

Kinneret Social Hall

$150

$300

Yarden Social Hall

$100

$200

Library/Lounge

$100

$200

Meeting Room

$75

$150

Conference Room / 




Classroom

$50

$100

* These fees are for separate meetings, programs and events only; they are not applicable for luncheons or dinners or with rental of either social hall or sanctuary/chapel.

---

Equipment Supplied by the Temple:

Tables: 5 foot round and 6 foot rectangle

Chairs

Easel(s)

Dance Floor which is a permanent fixture.

---

Priority One. Temple Sponsored Events

Temple Beth Ami ("Temple") has the exclusive right to reserve any available space at any time in the Social Hall(s) for religious, community, social, or fundraising events.  This category includes, but is not limited to, the Temple, Religious School, Nursery School, Temple sponsored organizations (Brotherhood/WTBA/Youth Group). A calendar of future events will be maintained by the Temple as far in advance as possible.

Priority Two. Bar/Bat Mitzvah Families

Bar/Bat Mitzvah families can make their reservation request upon receipt of the official notification of their Bar/Bat Mitzvah date; in no case will reservations be accepted more than thirty-six (36) months before an event date.  Reservation requests will not be accepted prior to the official Temple notification of Bar/Bat Mitzvah date.

Bar/Bat Mitzvah families will be given a thirty (30) day first option to reserve the Social Hall(s) for their events according to the following priority order:

First: Bar/Bat Mitzvah family with an afternoon Bar/Bat Mitzvah for evening use of the Social Hall.
Second: Bar/Bat Mitzvah family with a morning Bar/Bat Mitzvah for afternoon or evening use of the Social Hall.

Reservation requests must be in writing in accordance to the Special Reservation Request Requirements ("Request Requirements") outlined within this policy, and postmarked within thirty (30) days of the communication from the Temple notifying the Congregant of his/her child's Bar/Bat Mitzvah date. 

Requests will not be processed until all requests are received during the 30 days. If two Congregant families within the same priority group request a reservation for the same space within the thirty (30) day option period, the Temple will, in good faith, request that the families seek a resolution based upon their total number of expected guests.  In the event the Congregants cannot reach an agreement the reservation of the Congregant family in good standing, with the most seniority as a Temple member (based upon congregational membership records), will have his/her priority request accepted.

When there is an afternoon service scheduled, only an Extended Kiddush or Expanded Extended Kiddush can be held following the morning service

Use of Social Halls by Two Congregant Families at the Same Time under Priority Two

If two Congregant families want to reserve the Kinneret and Yarden at the same time for two separate events, both must use the same caterer. Only one caterer is allowed in the kitchen at any time. The Temple asks that the Congregants discuss the catering options and reach a mutually acceptable resolution.  In the event that the Congregants cannot reach agreement on one caterer, the caterer of the Congregant with seniority  is determined to be the caterer for both.

Priority Three. Congregants for All Other Events

Requests will be accepted up to twenty-four (24) months in advance.

For all other dates, and for days on which B'nai Mitzvah are scheduled but the thirty (30) day option period has expired, reservations from Congregants will be accepted on a first come/first served basis.  Reservations must be submitted according to the Request Requirements outlined herein.  In the event two Congregants request the same space and submit their requests on the same day, the Temple will ask the Congregants to work out a mutually acceptable resolution. In the event the Congregants cannot reach agreement, the reservation of the Congregant in good standing with the most seniority as a Temple member (based upon membership records), will have his/her priority request accepted. 

Priority Four. Outside Public/Community Usage

Use of the Social Hall(s) will be subject to the approval of the Executive Committee, after consultation with the Senior Rabbi, Executive Director and the Temple Administrator, and will be subject to the current Temple rental terms and conditions.  Reservation requests from outside public or community groups will be accepted up to twelve (12) months in advance of an event date. No Outside Public/Community Usage reservation requests will be accepted earlier than twelve (12) months before an event date unless authorized on a case by case basis by the Temple Administrator, Executive Director or Executive Committee.

Reservation of Social Hall(s) will be open to both Congregants and Outside Parties twelve (12) months prior to the event date, subject to prior reservations as outlined above. To the extent possible, and at the discretion of the Temple Administrator or Executive Director, the Temple will not accept reservations from an Outside Party for a particular date or time slot if that would result in both Social Halls being reserved by non-Congregants or for non-Congregant sponsored events earlier than six (6) months before the event date.  Requests will be accepted on a first come/first served basis, and must be submitted according to the Request Requirements outlined herein.

In the event that a Congregant and an Outside Party request a Social Hall(s) for the same date and time slot, and the request is submitted on the same day, the Congregant's request will receive priority, provided the Congregant is in good standing.

Rental of Both Social Halls For One Event

If the renter chooses to rent both social halls for a single event, both spaces are considered full rentals and are charged the full rental fees.

RESERVATION REQUEST REQUIREMENTS:

Temple members must be in good standing at the time of reservation request and provide rental and security deposit as specified in the Rental Agreement.  The Temple member must be in good standing to continue to hold the reservation.  In the event a Congregant is not in good standing, the reservation will be cancelled and deposits and fees will be applied to the Congregant's account.

SENIORITY:

If seniority is used as the deciding factor in accepting a reservation, seniority will be based on the date of Temple membership of the family unit. In the event that a family unit has separated and established separate Temple memberships, each membership will use the seniority of the most senior member.

CONFIRMATION OF RESERVATION:

 A letter of confirmation will be sent by the Temple following receipt of the signed rental agreement. an advance deposit equal to fifty percent (50%) of the room rental fee, and one hundred percent (100%) of the Damage Protection Deposit.  The remaining balance due to the Temple must be paid no later than sixty (60) days prior to the event date. In the event the advance deposit, damage protection deposit, building security or other service fees are not paid, the Temple may, at its sole discretion, cancel the reservation. Additionally, congregants must remain in good financial standing throughout the time of the contract, or the contract is subject to cancellation.

Damage Protection Deposit and Overage Charges

Members: $500
Nonmembers: $800

A refundable damage protection deposit is charged each rental in accordance with Schedule "A."  The check will be cashed.The refund amount will be subject to a damage inspection as determined by the Temple.  Major damage repair of the building or replacement of damaged equipment beyond the damage deposit amount will be the sole responsibility of the Congregant/Outside Individual or Group renting the space.  Overage charges for extra time will be deducted from this deposit, and any amount due above the deposit will be invoiced to the Congregant/Outside individual or Group for immediate payment.

Caterer's Kitchen Usage and Damage Protection/Cleaning Deposit Fee:

Kitchen Usage Fee:  $250.00 – Non refundable; must be paid by caterer 60 days prior to use.

Damage Protection/Cleaning Deposit:  $300.00. Refundable if there is no damage or excessive clean-up.

All caterers must sign caterer guidelines and supply current insurance information (COI), with the Temple named as an additional insured, at least 60 days before rental date.

Building Security

The Temple is a secure building and is locked at all times.  The Temple provides coverage on the door for the half hour prior and the half hour after the start of the rental.  Late arrivals will need to follow posted directions for access to the building.  Each social event will require two (three if renting multiple spaces) of the Temple's approved insured security guards (See the section "Security for Private Rentals," below).  Said security will be in addition to the room rental fees and based upon current local market rates for such service. Payment is made, in advance, directly to the security personnel.

Processing Charge

Processing Charge for Cancellation and Refunds:  $50.00 (this fee will be waived for members requesting a refund if  the refund is applied to  the member's account.

Cancellation of booking by the Renter at any time after confirmation of reservation has been issued may result in full or partial forfeiture of the advance deposit.  All cancellations and refund requests must be in writing and mailed, emailed, or faxed to the Temple.  The following refund schedule will apply:

If cancellation occurs more than twelve (12) months prior to the scheduled event date, a full refund of the advance deposit, less a processing charge in accordance with Schedule "A".

If cancellation occurs between twelve (12) months and nine (9) months prior to the scheduled event date, a seventy-five percent (75%) refund of the advance deposit, less a processing charge in accordance with Schedule "A."

If cancellation occurs between nine (9) months and six (6) months prior to the scheduled event date, a fifty percent (50%) refund of the advance deposit, less a processing charge in accordance with Schedule "A."

If cancellation occurs between six (6) months and event date, no refund.

If your Temple account has an overdue balance, the refund will first be applied to cover this balance, then any remainder will be refunded

All appointments with caterers held at the Temple must be held during regular business hours and must be arranged in advance with the Temple's Administrator.

Caterer's Approved List

Only caterers on the Temple's approved list will be allowed to use the kitchen facilities.  All approved caterers must provide proof of liability insurance with the Temple named as an additional insured (COI), a signed agreement, the kitchen usage fee, and a damage protection/cleaning deposit no less than 60 days prior to the event. Caterers not on the approved list must meet with the Temple Administrator or Executive Director. Only one caterer is allowed in the kitchen at any time.

Kitchen Usage Fee

All caterers using the Temple kitchen will be charged a reasonable usage fee as set by the Temple Board of Directors.

Damage Protection/Cleaning Deposit

A refundable damage protection and cleaning deposit will be collected from each caterer using the kitchen facility; the check will be cashed.  The refund will be paid by check and the amount will be subject to damage inspection and/or cleaning cost as determined by Temple inspection; a sign-in/sign-out sheet must be completed and signed by the caterer and a Temple representative.  Major damage repair of building or replacement of damaged equipment beyond the damage deposit amount will be the sole responsibility of the caterer.

List of Approved Caterers

(To use a caterer not on this list, the caterer must contact the Temple Administrator to go over our guidelines and supply us with a copy of insurance papers.)

Attman's Deli/Potomac Village Deli – 410.563.2666/301.299.5770

Avalon – 202.337.2000

Bagel City– 301.231.7041

Bagel Towne – 301.279.7035

Bean Bag- Mitchell Wool – 301.251.4794

Bethesda Bagels – 301.652.8990

Biddle Street – 410.727.7777

Brooklyn's Deli and Catering – 301.279.9393

(The) Bagelry – Steve Brecher – 301.384.2322

(The) Burger Joint – 703.231.9833

Canapes – 301.663.8220

Charles Levine – 301.913.0444

Design Cuisine – 703.979.9400

Federal City Caterer – 202.408.9700

Festive Food – 301.230.2700

Geppetto's – 301.927.8800

High Point Catering – 301.428.0650

Innovative Gourmet (Owings Mill) – 800.722.1317

Izze's Deli. Lee Greenberg – 301.231.0771

Ken's Creative Kitchen – 410.268.3222

Kitchen Gourmet- 703.490.1730

Kosher Mart Caterers – 301.698.0400

Lebanese Taverna – 703.841.1503

Lucks Caterers – 301.468.387

Main Event – 703.820.2028

Mamma Lucia – 301.762.8805

Martins Caterer – 301.474.8500

MK Catering- Inc. – 301.277.8494

Mosaic Café – 301.468.0682

Mr. Omelette – 301.340.2800

New Course- 202.347.7035

Occasions – 202.546.7400

Options Caterers – Debbie Lessans – 301.208.0556

 Prime Choice Caterer – 301.948.7337

Provisions. Bunny Dwin – 301.949.6100

Puttin' on the Ritz – 301.725.4220

Ridgewell's Caterers – 301.652.1515/1898

Rouge Catering – 410.527.0025

Royal Bakery – 301.428.1888

Catering by Seasons/La Prima – 301.477.3515

Signature Catering/Max's Kosher Deli – 240.290.0032

Spilled Milk Catering – 202.525.6455

Steve's Deli – 410.753.3354

Stone Soup – 301.515.6998

Susan Gage – 301.839.6900

Tranquil Traditions – 301.610.9050

Uncle Julios (Rio Grande Bethesda) – 301.656.2981

Uptown – 301.572.7744

Weiss Catering –443.394.8338

Wickey – 717.858.0112

Windows – 703.519.8833

Woodside Deli and Catering, Rockville – 301.325.8057

Zeffert &Gold (Baltimore) – 410.944.4481

Zoe's Kitchen  – 301-947-7711

In endeavoring to serve both Congregational needs and community organizations that desire to use the facilities of the Temple for their functions, the Board of Directors has set forth the following regulations in order to efficiently operate the building, protect Temple property, conform with federal, state and county safety regulations and codes, and  avoid conflict with the Temple's own activities and programs.

Facility Rental Policy

Only members of Temple Beth Ami and those organizations whose purposes are of communal, philanthropic, educational, or nonprofit nature shall be eligible for use of Temple facilities.

Anyone using the facility is required to comply with the Temple Beth Ami Facility Rental Policy Statement.

No function can have a greater number of participants than approved under the fire regulations of the County or that constitutes a danger.

ALL vendors must have current certificate of insurance(COI) naming the Temple as an additional insured on file with the Temple no less than 60 days prior to the event

Use of Sanctuary and Chapel

Use of the sanctuary or chapel for any occasion by a congregant, non-member, or outside organization must be approved by the Temple's Senior Rabbi prior to submission of the request.

Outside Clergy. The participation of an outside Rabbi, Cantor or clergyperson in any capacity must have the approval of the Temple's Senior Rabbi prior to submission of the request.
Funerals. Funerals may be held in the sanctuary or chapel for members of the Congregation and their immediate families (including parents, children, and spouse).  Non-member funerals are held at the discretion of the Temple's Senior Rabbi.  Funeral services in the sanctuary can be live streamed and a DVD recording can be made at the request of the family.

Weddings conducted by the Temple's clergy may be held in the sanctuary or chapel for members of the Congregation and their immediate families, or for non-members at the discretion of the Temple's Senior Rabbi. While our clergy will perform inter-marriages, co-officiating by a clergy member of another faith is not allowed.

Religious services may not be photographed.  DVD recordings of services may take place only through the Temple's system.  This policy does not include weddings, although photographers and videographers can be on the bimah only with the permission of the officiating clergy.

Bar/Bat Mitzvah families are assigned a forty-five minute time slot for photographs in the Sanctuary during the week prior to their service; times must be scheduled in advance with the Clergy Assistant. Additional photographs may be taken in the Temple lobby before or after Sanctuary photographs for an additional thirty minutes, at no cost and by prior arrangement.

Additional time or use of any other part of the building, including the Rova (rear outdoor area), must be scheduled in advance with the Temple Administrator and will be charged at a rate of $50/hour. All photography must be scheduled in advance with the Clergy Assistant and photographers must have signed and returned the Photographer's Guidelines at least 60 days prior to the photo session.  Photographers must provide proof of current liability insurance (COI) with the Temple names as an additional insured.

Smoking

The Temple is a smoke free and drug free environment.

Music and Dancing

Music Volume. The music volume must be kept to a reasonable level during the entire function.  Any issues with respect to noise ordinance are the responsibility of the signatory of the rental agreement.

Contract Music, Orchestras and/or Instrumentalists. Contract music vendors or musicians who play under contract or other arrangements are also bound by the terms of this regulation.  Current Liability Insurance (COI) must be on file at the Temple.  Responsibility for enforcement of the terms of this agreement resides with the signatory.

Food/Catering

No shellfish or pork products of any type may be prepared or served on the premises of Temple Beth Ami. During Passover, no leavened or other prohibited foods may be served.

Kitchen.Arrangements for the use of the kitchen may be subject to the sharing of the facility- if other rentals or Congregational activities are taking place at the same time. Only one caterer may use the kitchen at any time (shared rentals must use the same caterer; caterer will be determined by priority of rental.) The Congregation does not provide any catering service. All food services will be under the control of the signatory. The signatory (or contracted caterer) must provide all labor associated with setup, serving, clearing, cleanup and dish washing. The kitchen must be left broom clean and in an orderly condition. The Temple's custodian is responsible for completing a facility use checkout form with the caterer prior to the caterer's leaving the premises. The signatory will be responsible for any missing or damaged equipment. The signatory and contracted caterer will be responsible for adhering to the Temple Beth Ami Procedures for Using Kitchen.
Caterer. The Temple must approve any caterer who is hired. All approved caterers must have a current certificate of liability insurance, with the Temple named as an insured, on file at the Temple, have signed the caterer agreement, and have paid the kitchen fee and the Caterer's Usage and Damage Protection/Cleaning fee no later than sixty (60) days prior to the function. The caterer must comply with the rules of the Temple.

All planning appointments with caterer or planner and rentee must be cleared with the Temple Administrator and can be held only during regular business hours.

Alcoholic Beverages

Alcoholic beverages may ONLY be served as part of a meal or function. Any and all governmental permits, rules, regulations and laws that pertain to the use of alcoholic beverages within Temple Beth Ami are the sole responsibility of the signatory.  Under no circumstances can alcohol be served to minors; this includes the ceremonial use of wine.

Signatory must ensure that efforts are made to encourage individuals who have consumed alcohol to participate in a safe transportation program including, but not limited to, designated drivers, serving of non-alcoholic drinks to designated drivers, taxi services, or calls to police if intoxicated participant insists on driving home.

Games of Chance

Games of chance for fund raising may take place in the building with proper licensing.

Facility Restrictions

All exterior doors must be locked at all times.

All exit doors must be left free and unobstructed. No tables, decorations or plants shall be placed in front of any door or exit.

All lighting and stage equipment must be set up under the supervision of a Temple custodian, and must be pre-approved by the Temple Administrator or Executive Director.

Decorations can be affixed with masking tape, command strips, and light weight magnets (nothing heavier than 2 ounces may be hung from the ceiling).  If in doubt, contact the Temple Administrator or Executive Director.

Only votives or candles with enclosed flames may be used. No open lighted candles are permitted as a wedding decoration in the sanctuary or chapel.

 

Permission to bring in special equipment for any function must be arranged through the Temple Administrator and such equipment, including tables and chairs, must be removed immediately after the function, unless prior arrangements have been made with the Temple Administrator or Executive Director.

In order to prevent injury or undue cost to the Temple, rice, rose petals, confetti, candy, powder, smoke, bubbles, sand, birdseed are not permitted anywhere on the premises. Rose petals may be thrown outside the building as the couple exits after the wedding.

No equipment belonging to the Congregation is to be borrowed or removed from the building at any time by any individual or organization without permission of the Temple Administrator or Executive Director.

The signatory must insure that all patrons behave in a safe and responsible manner.

Guests will not be allowed to roam freely outside the rented area, except to restrooms and coatroom.

Access to the building is restricted to rental hours.

The premises must be vacated by 2:00 am. Additional rental time is charged at double time after 2:00 am.

No animals, except service animals, are permitted in the building.

THE TEMPLE'S BUILDING STAFF AND SECURITY PERSONNEL WILL ENFORCE ALL SAFETY REGULATION

Other Considerations

Renter (or applicant) must:

Comply with Temple Beth Ami's policies, rules and regulations.

Remain current in all financial obligations to the Temple and pay all fees and deposits within the prescribed time frames.

Schedule in advance with the Temple office all meetings with caterers, party planners, photographers, etc. that are to be held in the Temple building.

Make sure that ALL vendors are aware of your contract, e. timing, policy and restrictions. 


Maintain proper decorum and to assure that a reasonable standard of behavior is maintained by all persons and organizations using the Temple's premises while in or about the building or its adjacent areas.

Comply with any and all city or county ordinances or state law in and around the premises.

Refrain from subletting or renting the premises or any part thereof, or assign this application and agreement, without the expressed written consent of the Temple.

Be fully responsible for any and all damages to Temple property caused by applicant or applicant's guests or agents during the function or preparation thereto.

Agree that the Temple assumes no responsibility for loss or damage to personal property brought upon the premises, including motor vehicles, and that such personal property brought or left on the premises shall be at the owner's risk. All personal property brought upon the must be removed at the end of the rental.

Anyone who rents the building for a private event which will include minor children and/or young adults must provide a security guard for the duration of the event. The security guard must be hired through one of the people listed below.

The security personnel must be on the premises at all times during the event.

2 Security personnel are required. If you have rented more than one space, 3 security personnel required.

Security personnel are expected to:

Protect the building from damage and vandalism

Keep guests from entering the Religious School and the Nursery School areas of the building

Keep guests from entering the sanctuary or chapel with food or drink

Keep guests (minors) from leaving the Temple grounds

Please contact one of the following people who will provide approved, licensed and bonded security personnel:

 If they are not available, leave a message and they will return your call.

All financial arrangements are to be made between the renter and the security person.

Once arrangements are made, notify the Temple office with the name of the guard who will be working your simcha.  This is mandatory, as we will coordinate any security concerns directly with the guard(s).

If you have any questions or need any assistance, please contact the Temple office