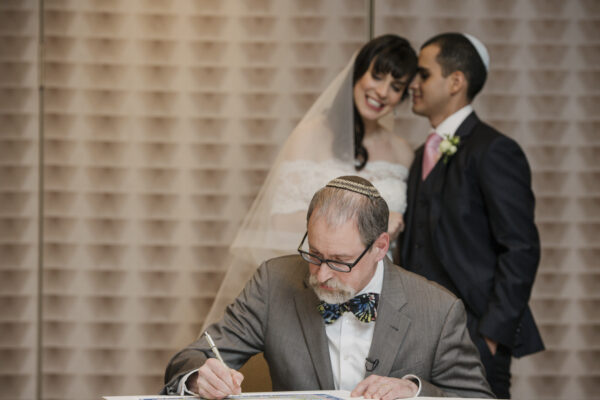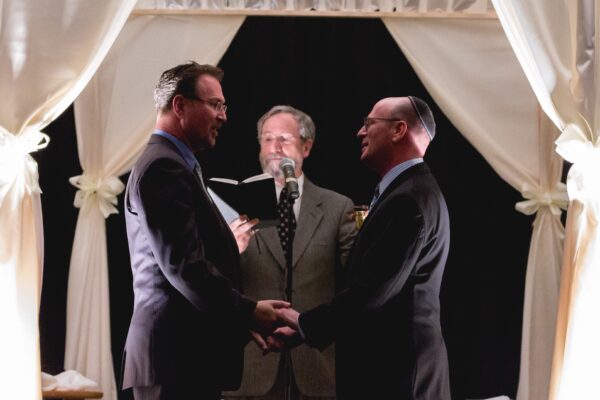 What an exciting and beautiful time in your life! We are here to help you in any way we can to make this day meaningful and memorable as you begin your lives together.
To help you understand how we "do weddings" at Temple Beth Ami, here are the answers to some frequently asked questions:
Who Can Be Married at Temple Beth Ami?
If you are looking for a spiritual Jewish wedding ceremony, then we've got a rabbi or cantor for you! Our clergy team is pleased to officiate for couples where at least one person is Jewish and both partners are committed to creating a Jewish home, beginning with the marriage ceremony. Beth Ami members and the children of members receive priority for scheduling weddings with Beth Ami clergy.  Our team may also perform ceremonies for couples who are not members, depending on our clergy's availability.  Our clergy can commit to non-member weddings nine months prior to the ceremony.
Can Clergy Outside of Temple Beth Ami Co-Officiate?
We understand and honor the special relationships families develop with their clergy over time, and our team will co-officiate with Rabbis and Cantors from other communities. However, because we only perform Jewish religious wedding ceremonies, we cannot co-officiate with clergy from other spiritual traditions.
Can We Get Married on Shabbat or Jewish Holidays?
Wedding ceremonies are prohibited by Jewish law on Shabbat and during some Jewish holidays.  Shabbat ends early during the winter months and late during the summer months, so clergy availability for Saturday night weddings will vary based on the conclusion of Shabbat. Our clergy can address this for the date(s) you are considering when you meet.
How Do We Schedule a Date/Time for Our Wedding Ceremony?
Personal chemistry is a key ingredient for a meaningful ceremony, so we recommend finding the right clergy before scheduling a date. The first step is to make an appointment to meet with Rabbi Pokras, Rabbi Weiss, or Cantor Eschler by contacting our Clergy Assistant, Amy Steinborn. We want to get to know you and give you the opportunity to get to know us. Once you have found the right fit, then we can work together on scheduling your ceremony. 
How Many Times Do We Meet with Clergy Before Our Wedding Ceremony?
Our clergy are specially trained in pre-marital counseling and generally meet with couples at least three or four times in preparation for the wedding.
One of Us Isn't Jewish. Does That Person Need to Convert?
No. The decision to convert is intensely personal and serious. We do not recommend converting for the sake of your marriage. For couples seeking an interfaith marriage, we require that you take an Introduction to Judaism course prior to the ceremony, as well as make a commitment to creating a Jewish home and raising a Jewish family. 
Can We Personalize Our Ceremony?
Of course! You are unique, and we strive to make each ceremony a reflection of the couple.  While there are certain prayers and elements that must be included in a Jewish wedding ceremony, there is always room for a more personal touch.  During our pre-marital meetings, we will work with you to create your perfect ceremony.
Can We Include Elements from Other Cultural and Faith Traditions?
We are happy to include multi-cultural elements in your ceremony. We have done trilingual ceremonies and used melodies and poems from around the world. However, since the ceremony will be Jewish rather than interfaith, we cannot include material from other faith traditions.
Where Can We Be Married? How Far Will Clergy Travel?
Our Sanctuary and Chapel as well as our social halls are all available for Jewish weddings. Clergy may also officiate at local wedding venues and can travel throughout the DMV, as well as Baltimore.
We are also delighted to host your reception in either of our two social halls – the larger one can accommodate 300 people, and the smaller one about 110 people. We also have a beautiful backyard for your ceremony and/or reception. Rental fees and policies can be found here.
How Much Does Temple Beth Ami Charge to Officiate a Wedding? 
There is no charge for our clergy to officiate at the wedding of a Temple member or the children of Temple members. For guests of Temple Beth Ami, the fee for the ceremony and required pre-marital counseling is $1,000.
If you would like to have your ceremony at Temple Beth Ami, building rental fees for the sanctuary and chapel are additional and can be found here.
Who Do We Contact For More Information?
Please contact Clergy Assistant, Amy Steinborn to meet with the clergy about your wedding ceremony.  Please contact Executive Director Debbie Ezrin to assist you with building rentals for your ceremony and/or reception.