---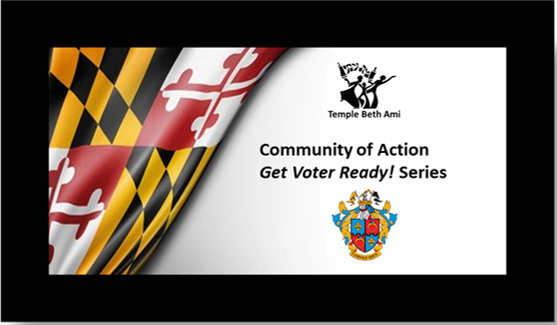 CANDIDATES FORUM
Sunday, June 12, 2022
10 am – 1 pm
Doors open at 9:30 am
This event is open to the public. 
All sessions will be moderated panels
Session I:   (10 – 11:15 am) In person only

Candidates for MD House of Delegates
 Concurrent programs for Legislative Districts 15, 16, 17 and 39 (separate sessions)

Session II: (11:45 am – 1 pm) In person and via live stream
Candidates for Montgomery County Executive
To register, click here
Please submit your questions for the candidates when you register.
Those who register will receive an email letting them know their voting district.
Parking information will also be sent.
Click here and then use drop-down menu to identify your voting districts
 Program information

County Executive Program Materials
MD House of Delegates – District 15 Materials
MD House of Delegates – District 16 Materials
MD House of Delegates – District 17 Materials
MD House of Delegates – District 39 Materials
Temple Beth Ami Community of Action is partnering with the following congregations and community groups to put together this non-partisan, secular voter education program open to all Montgomery County residents.
Click here to Volunteer or to find out about adding your organization as a partner
Information-resources-to-follow-state-and-local-government
New Montgomery County and Maryland State and Congressional Election Districts have been drawn!
---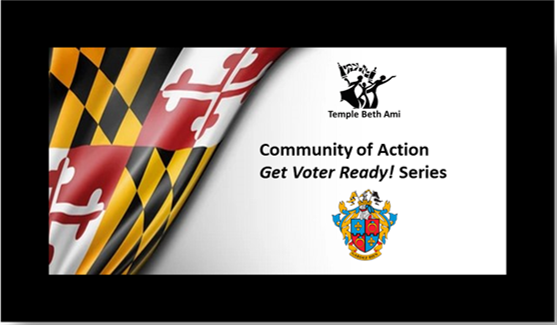 Meet the Candidates
Montgomery County State's Attorney

Thank you to the 50 people who joined us at our

Sunday, April 3 from 3-4:30 pm event


Please join us for a moderated discussion on the importance
and responsibilities of the State's Attorney.

Moderated by: Julie Sapper, Trial Attorney for
the United States Department of Justice
Criminal Division, Policy, and Statutory Enforcement Unit 

Watch a video clip of the event.

Questions? Email bethamigotv@gmail.com

---

Local Primary Elections in Montgomery County

Rabbi Yitzchak taught: "A ruler is not to be appointed unless the community is consulted."
(Babylonian Talmud Berachot 55a)

Thank you to the 60 people who joined us at our

Monday, March 28 at 7 PM event

Join Jews United for Justice and Temple Beth Ami for a non-partisan
conversation about what's at stake in the upcoming local primary
elections. We'll walk through which elected offices are on the ballot,
who is running, why these offices matter, when the elections are
happening, where your new districts are, and how you can be part of
shaping Maryland and Montgomery County and making concrete
improvements in the lives of everyone in our community.

RSVP through JUFJ for Zoom link and written materials

 

---

Thank you to the 90 people who joined us at our

Sunday, January 30 Get Voter Ready! event

 
Cheryl Kagan

State Senator, District 17

Gabe Albornoz

Montgomery County Council President
Watch a video clip of the opening presentations:
state and county government 101, redistricting, and top legislative priorities.

---