---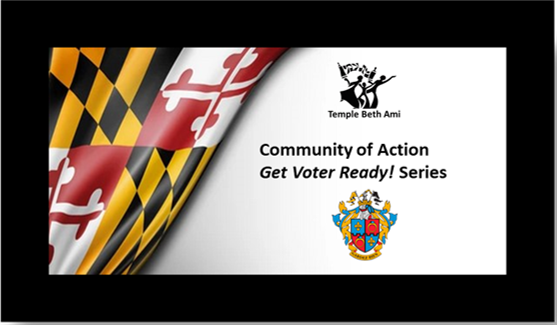 Over 250 people attended or participated virtually in the Candidates Forum held June 12, 2022 at Temple Beth Ami.
According to an informal count of those in attendance, plus those who tuned in remotely, an estimated 250 individuals were able to meet 18 of the candidates running for state delegate in Districts 15, 16, 17 and 39 and/or all six candidates running for Montgomery County Executive.
Click here for a  video of the County Executives Session of the Candidates Forum.
This forum was part of the Community of Action's larger voter education program – Get Voter Ready series.  In addition to the June program, the Community of Action sponsored the following virtual programming earlier in the year:
April 3 – Meet the Candidates: Montgomery County State's Attorney (50 virtual attendees). This discussion on the importance and responsibilities of the State's Attorney included all four candidates and was moderated by Julie Sapper.
Watch a video clip of the event.
March 28 – What's at Stake: Local Elections/Montgomery County (60 virtual attendees). This non-partisan conversation about what's at stake in the July local primary election was co-sponsored with Jews United for Justice. Participants learned about which elected offices would be on the ballot, why these were important, who is running and what were the effects of new redistricting.
January 30 – State and County Government 101 featuring Montgomery County Council President Gabe Albornoz and State Senator Cheryl Kagan (90 virtual attendees). Participants learned about redistricting for County Council elections and top legislative priorities to be taken up in Annapolis.
Watch a video clip of the event.
Information-resources-to-follow-state-and-local-government
New Montgomery County and Maryland State and Congressional Election Districts have been drawn!
---