Adult Education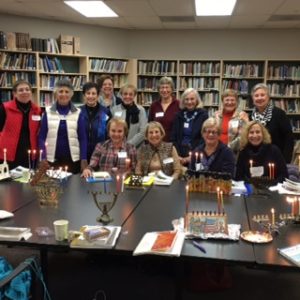 Judaism values life long Jewish learning.  In the Mishna it states, "Leave home and go to a place of Torah.  Don't say the Torah will come to you or that your companions will make it yours. Don't depend on your own understanding."  (Pirke Avot 4:4)
The Torah is called- Etz Chaim — The Tree of Life.  Torah nurtures and sustains us. As we grow into adulthood, our thirst for knowledge grows and changes. Our Torah and our tradition can be the root of our lives, grounding us and drawing us closer to our community, our family, and ourselves.
Temple Beth Ami offers a rich variety of Adult Learning Opportunities
Saturday Morning Torah Study from 9:00 am – 10:30am
Saturday morning Torah Study is open to anyone interested in lively discussion of our heritage and its roots. You are invited to join a verse by verse examination of the Torah, a close reading of the text where all opinions and commentaries are encouraged. There is no cost to participate and beginners are always welcome!
Beginning Hebrew 
Tuesday evenings from 6:30 pm – 8:00 pm; $50 per 5-class session; Sign up for one or for all! Hebrew classes will be taught by Cantor Eschler. Register for 1, 2 or all 3 sessions. Each session costs $50 per person.
FALL: Aleph-Bet Decoding: 10/9, 10/23, 11/13, 11/27, 12/11; Register by 9/25
WINTER: Hebrew Fluency & 1st 100 words: 1/8, 1/22, 2/12, 2/26, 3/12; Register by 12/21
SPRING: Prayer Book Hebrew: 3/26, 4/9, 4/23, 5/7, 5/21; Register by 3/12
Introduction to Judaism
Are there questions that you have always wanted to ask, but have been afraid to? Are there missing pieces in your understanding about Jewish beliefs, practices and customs?  Are you marrying someone Jewish? Jewish but never had much Jewish education? Raising Jewish children and want to know more? Studying to become an Adult Bar or Bat Mitzvah? 
There are a lot of questions in Judaism, and in this ten-week class, we will start to find some of those answers as we explore Jewish identity, Shabbat and the Jewish Holidays, Jewish life cycle events, prayer, thoughts on God, Jewish history, the Holocaust, Israel and Torah.
Our 10-session course meets on Sunday mornings (11:00 am-12:30 pm) beginning on September 23 and culminates on December 16, 2018. 
Taught by Rabbis Pokras and Weiss, the Intro to Judaism class is open to anyone as a stand-alone component of adult learning and is a component of the Adult B'nai Mitzvah class.
DATES: 9/23, 9/30, 10/7, 10/14, 10/21, 10/28, 11/18, 12/2, 12/9, 12/16
Minimum class size required
Cost: $100 per person; $150 per couple
Register online by 9/4
2018-2019 Adult B'nai Mitzvah Class
Taught by Rabbi Gary Pokras, Rabbi Baht Weiss, and Cantor Larry Eschler.
You are never too old to have your Bar or Bat Mitzvah!
Deepen your connection to Judaism while you work alongside others to learn Hebrew, explore your heritage, and prepare to read Torah and lead services at the Adult B'nai Mitzvah ceremony that will take place on Shavuot – Saturday, June 9th at 5:30 pm.
The adult B'nai Mitzvah class comprises all three Beginning Hebrew classes, the Introduction to Judaism class and additional work to prepare you for the ceremony on Shavuot.
Cost: $300; Minimum class size required.
March 2019

While very different in tone and celebration, Purim (a minor holiday) and Passover (one of three major holidays) both recall moments of deliverance for the Jewish people.  The different perspectives represented by these holidays establish a tension in Jewish history and communal response to danger which persists in modern times.  We will study the holidays, consider surrounding commentaries and trace the impact of each model on the Jewish world of today.  Generously supported by the Sally Kera Live & Learn…

Find out more »

April 2019

May 2019

+ Export Events