Women of TBA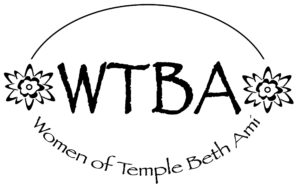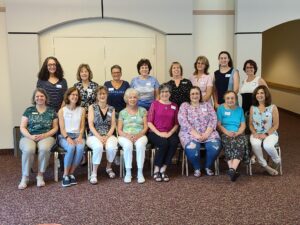 Women of Temple Beth Ami (WTBA) is a warm and welcoming community of women of all ages and interests dedicated to enhancing and supporting Temple Beth Ami through special programming, financial support, and the involvement of women in the life of our congregation. Our ongoing activities, special events, and social action initiatives provide the opportunity to develop friendships and a sense of community. We learn about and practice Judaism, explore important issues, and contribute to the well-being of Temple Beth Ami and the larger community.
Join the WTBA new Facebook group! Keep up-to-date on our programs and projects, as well as WRJ district and national events. Ask questions and send us suggestions to make our sisterhood stronger! Click here to join!
May Events
WTBA Pampered Chef Fundraiser. This event is happening all through May, including the two cooking demonstrations (May 9 and May 31). Click here to learn more about the fundraiser and do some shopping to help support WTBA.
Virtual Pampered Chef Cooking Demo, Monday, May 9 (7:30 – 9:00 pm). This is a free event held in conjunction with a special WTBA/PC fundraiser running throughout the month of May. Please join in as Wendy Sidlofsky, a Pampered Chef (PC) consultant and past member of the WRJ Mid-Atlantic District shares her kitchen and favorite PC tools to create delicious appetizers. Sign up here. If you have questions, contact Jeanne Kahn.
WTBA Board Meeting on Tuesday, May 10 (7:00 – 9:00 pm in person at TBA). Come at 7:00 to help us put together bags of infant supplies for the Montgomery County social workers. All WTBA members are welcome to attend board meetings.
WTBA Crafts For A Cause. This is a two-part eco-friendly cutting and sewing project benefiting the Montgomery County Humane Society to provide much-needed pet beds. We are looking for volunteers. The first part can be done in your home anytime from May 9 to May 16 where you can help by cutting fabric into small squares. On Saturday, May 14 from 1:30 to 4:30 pm, join us at the Rockville home of a generous volunteer who has a machine for cutting fabric more quickly. Then come to the Temple on Thursday, May 19 from 7:00 to 9:00 pm where we will be stuffing and sewing the pet beds together. Sign up here. If you have questions, you can contact Denise Feldman for more information. 
WTBA Book Club, Tuesday, May 24 (7:30 – 9:00 pm). Virtual Book and Author event with author Lauren Fox for her new book Send For Me. Please plan to join us. Questions? Contact Judy Katz. 
Virtual Cooking Demo, Tuesday, May 31 (6:30 – 7:30 pm). Another opportunity for attending a free cooking demonstration where we welcome back Bernice Porrazzo from the Women of Rodef Shalom in Falls Church, VA. Bernice will show us how to cook Chicken Marsala and Nino's Risotto Milanese. Yum!! Both recipes will be sent ahead of time so that you can cook along with Bernice and have dinner all prepared and ready to eat after the demonstration. There is no fee to attend, but you do need to register. RSVP to Jeanne Kahn by May 30.
Recent Events
WTBA Potluck Women's Seder. Thank you to everyone was able to celebrate with us on Sunday, April 10th.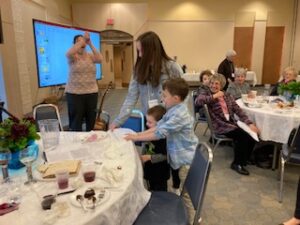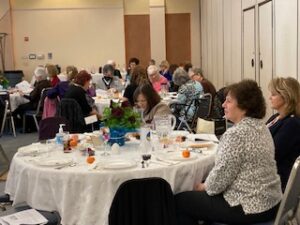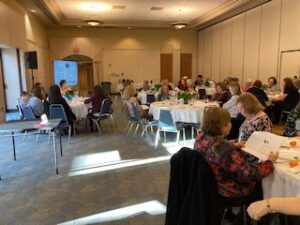 PurimPalooza 
The chilly weather did not deter a strong turn out for our Purim celebration this year. The food trucks, activities, and Purimspiel were all a big hit for the children and the adults.