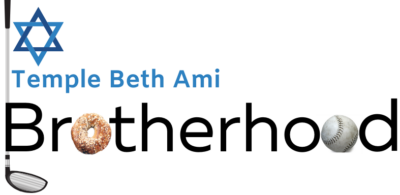 Temple Beth Ami's Brotherhood provides fellowship and fraternity with meaningful connections for our wonderful synagogue.  Membership in the Brotherhood is open to all Temple Beth Ami members – the degree of participation is entirely up to you. 
Registration is open for the new fiscal year!   
There is no charge for membership, however there is a place on the registration page where you can make a voluntary contribution of any dollar amount if you would like. 
We are planning some great activities for the coming year and would love to have you there!  
What We Do
Service to the Temple:  Gift Kiddush Cups for all B'nai Mitzvahs, Shiva Minyanim; High Holy Days Ushering; Community Building
Service to the Community:  Feeding the Homeless; Rebuilding Together Montgomery County; Interfaith functions
Fun, Family, and Friendship:  Run the TBA Breakfast Bar on Sunday mornings; Brunches and Lectures; Movie Nights; DC Sports; Golf Tournament; Brotherhood/WTBA Events; BBQ's; Softball Teams, and much more!
Participate at Your Level of Interest
Play softball: Our teams are always looking for talent to take Temple Beth Ami back to the league championship.   Neither TBA membership nor Brotherhood membership are required to play!   Registration for the 2022 season is below.
Help with a project: We are delighted to have your help! Tell us how you want to get involved, and we'll take you up on it!
Make a suggestion:  We want to hear from you!
I want to do as much as I can:  Talk to a Brotherhood leader and join us for Brotherhood Board meetings.