At the beginning of the summer, I wrote about one of my most memorable summer sunsets, which happened to be an Erev Shabbat on Cadillac Mountain in Acadia National Park in Maine. This past summer we didn't get to Maine, but we did lots of travelling, most of it to be with our children and grandchildren.
One trip in particular was an extraordinary one. We spent a week at the beach in North Carolina with all three of our daughters and their families. While we have had plenty of occasions for our entire family to be together – Pesach being the most reliable – this is the first time that all (thirteen) of us would be living in one house for a full week. And, of course, the full week included one Shabbat.
We had a Sunday-to-Sunday rental, so Shabbat came at the end of our week together. There had been plenty of time for all of us to spend at the beach, at the pool, at a local amusement park and other attractions. But on Friday afternoon, all those activities were set aside as we began to prepare for Shabbat. Lynn, our daughters, and their husbands began preparing dinner, and our grandchildren helped get things ready as well. It has become a tradition in our house that whenever we are with any of our grandchildren for Shabbat, I bake a small challah for each of them in addition to the larger loaves that we all share. With this large a group, I had baked a dozen "challah rolls" for the children and two extra-large loaves for all of us. When our grandchildren saw the bag of challah rolls, they started to get excited. When we lit four sets of Shabbat candles, the smiles were growing larger. When we all started singing Kiddush, the look on the children's faces was incredible. They're all used to singing or at least hearing Kiddush sung at the Shabbat dinner table, but they're not used to such a large crowd participating. And right after Motzi, everyone enjoyed challah. Dinner was delicious and joyful.
Our joy reminded me of another amazing Shabbat experience: Shabbat at a URJ Biennial. It is as wonderful as Shabbat at a Jewish summer camp. Shabbat spent with 5,000 Reform Jews from all over North America is something I hope you all get to experience. This December, Lynn and I will be going to Chicago for the URJ Biennial. If you've never been to Biennial before, I encourage you to consider it. There are sessions and workshops on just about any topic you can imagine. There are song sessions with some of the leading musicians in the Jewish world. And of course, you'll never forget having Shabbat dinner with 5,000 Reform Jews from all over North America and feeling that connection run through the entire room.
This is a photo I took at the 2011 Biennial Shabbat dinner.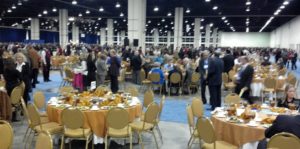 Recent Posts by Buzz Karpay