Monthly President's Message
Open your calendar and reserve December 8-11, 2021. That's when the URJ Biennial will be in Washington.
Lynn and I attended this year's Biennial in Chicago in December. As we were preparing for the trip, we were going over the schedule to see which sessions we wanted to attend together, and which ones made more sense for us to attend separately. It quickly became apparent that there is no way we could attend everything we wanted because there's only so much you can do in four days.
There were literally hundreds of sessions, and many of them seemed interesting enough to entice me to tentatively put them on my schedule. I quickly found that I had double- or triple-scheduled time blocks and began the process of narrowing down the field. There is no way I can cover even a significant amount of what we did at the Biennial, but here are just a few of the highlights.
We both attended a session that was being led by Dr. Andrew Rehfeld, the new President of Hebrew Union College. The title of the session that drew us both in was "The Beatles and the Intersectionality of Jewish Philanthropy, Civic Responsibility & Synagogues." Dr. Rehfeld started the session by analyzing the lyrics of the Beatles' song, "She Loves You," and was able to get most of the room to join in singing with him. Looking at a song like that through a Jewish lens was fascinating, and in the future, I will seek out sessions being taught by Dr. Rehfeld.
I attended a congregational presidents' meeting, where I renewed friendships that were formed when I attended a seminar for incoming presidents more than two years ago, and made several new friends. That was followed by a reception held by the Religious Action Center for winners of their Fain Award. Thanks to our Tikkun Olam Committee, Beth Ami was one of the winners of that award, and those in the room were impressed by what we had been able to accomplish.
Plenary sessions were always full of great speakers, presentations, entertainment, and music. Many of the plenary sessions are now online at urjbiennial.org. The song sessions at the end of most plenary sessions were always engaging, with leaders in the Jewish music world leading the sessions. The photo at the end of this column was taken at one such session.
Music wasn't limited to plenary sessions. We went to see or hear several different music and comedy groups, generally as late evening programs. All the learning sessions, plenary sessions, and music led up to Shabbat, which was incredible. Thousands of Jews praying and celebrating Shabbat together is hard to describe but worth experiencing. After Shabbat, Second City performed on the Biennial stage.
Lynn and I are still talking about what we experienced at Biennial. We ran into old friends (Rabbi Zupan and Rabbi Spey both say hello to everyone), made new friends, and wished that more of our Beth Ami friends were with us. When you see me, ask me about it and I will fill you in with all the details that are too numerous to print here.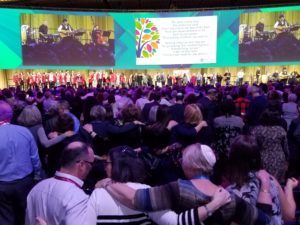 Recent Posts by Buzz Karpay