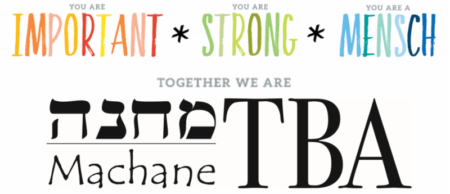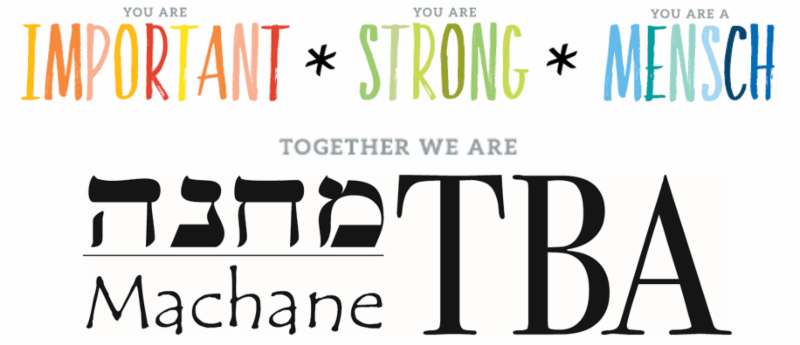 Welcome to Machane TBA's 2020-21 Registration
Access School Registration in your Chaverweb account*

Select the class and session you wish to register for from the dropdown box located at the top of the page. Once you select the class, children in your family eligible to register for that grade will appear.

If you have not already done so, the prompt will ask you specific questions to update the data for each member of your family. In addition to updating your profile, you will be prompted to upload a photo of your child. This is a requirement of the registration process. You can make all changes and save at the end; there is no need to save after each edit. 

Select the child's name you wish to register and follow the prompts.

Upon completion of your registration you will receive a confirmation email that you have completed registration.
Session hours and dates for 2020-2021
Primary (Grades Pre-K-2): Sundays from 9:00 AM – 11:00 AM. 
L'Mala/L'Mata (Grades 3-6):

Sunday

s from 9:00 AM – 12:30 PM. 
TBAjrHigh (Grade 7) and TBAHigh (Grades 8-12): Tuesdays from 6:30 PM – 8:00 PM. 
See the Machane TBA website for more detailed information about each program
Students in Grades 3-7: Throughout the year, extra Hebrew support is available for any registered student that would like to take advantage. There is no additional fee for this extra support. This option is offered Monday, Wednesday and Thursday between the hours of 4:00-5:00 PM. Each session is a half hour. To schedule a time slot, please email Lisa Goodman at lgg@bethami.org.
Financial
All families must be current in their financial obligations for registration materials to be processed.

Temple policy states that in order to celebrate becoming a Bar/Bat Mitzvah at Temple Beth Ami, child(ren) must attend Machane TBA from first through eighth grade.

No deposit is required at the time of registration. If your child attended Machane school year 2019-20, all families will be globally billed

July 31

. Even though you have been billed, it will still be necessary to complete an on-line registration.

When the various optional programs become available for registration you will note that these programs do require payment at the time of registration. We encourage you to pay by credit card but do allow payment by check. Acceptance of your registration if paying by credit card will be immediate. If you elect to pay by check your optional registration will not be complete until your check is received. Please write in the memo portion of your check what the registration is for.
Tuition Rates:
These are 2019-2020 tuition rates and fees.  New tuition rates and fees will be available upon Board approval by July 2020.

| | |
| --- | --- |
| Grade | Tuition |
| Primary (PreK-2) | $850.00 |
| Primary (PreK-2) Non-member | $1,650.00 |
| L'Mala/L'Mata (Grades 3-6) | $1,620.00 |
| TBAjrHigh (Grade 7)  | $1,120.00 |
| TBAHigh (Grades 8-12) | $ 850.00 |
| Confirmation Fee (Grade 10) | $ 400.00 |
| Graduation Fee (Grade 12) | $ 150.00 |
| Bar/Bat Mitzvah Fee  | $1,300.00 |

Security fee:
$100 for all member households over 36 and all non-member TBANS and Machane TBA families.
$75 for single households over 36.
A Save the Date for the opening of school, a calendar and updated information will be emailed to you in mid- August. Placement post cards will be mailed prior to the first day of school which is October 4, 2020.
If you have any difficulty during the registration process, please contact Jen Smith, Machane Office Manager/Registrar.
*If you have never been enrolled at Temple Beth Ami, you will not have access to Chaverware, thereby not allowing you to register. Please contact please contact Jen Smith, Machane Office Manager/Registrar.