Women of TBA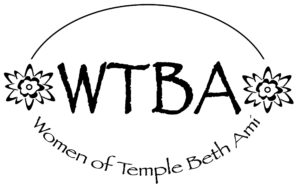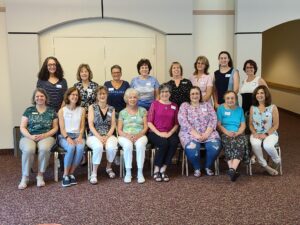 Women of Temple Beth Ami (WTBA) is a warm and welcoming community of women of all ages and interests dedicated to enhancing and supporting Temple Beth Ami through special programming, financial support, and the involvement of women in the life of our congregation. Our ongoing activities, special events, and social action initiatives provide the opportunity to develop friendships and a sense of community. We learn about and practice Judaism, explore important issues, and contribute to the well-being of Temple Beth Ami and the larger community.
Join the WTBA new Facebook group! Keep up-to-date on our programs and projects, as well as WRJ district and national events. Ask questions and send us suggestions to make our sisterhood stronger! Click here to join!
See our report card from last year to learn more about us.
February Events

Volunteer to help I Support the Girls.  There are two opportunities to volunteer: Thursday, February 16 from and Thursday, March 16 from 1:00 to 3:00 pm for both dates.
This volunteer effort will be at the I Support the Girls warehouse in Rockville. I Support the Girls collects and distributes essential items, including bras, underwear, and menstrual hygiene products for girls and women around the world who may be experiencing homelessness, are victims of domestic violence and sex trafficking, refugees and evacuees affected by national disasters. We will be opening packages, sorting donations, performing quality checks on the undergarments, packing and preparing small boxes for shipment, and writing thank you notes.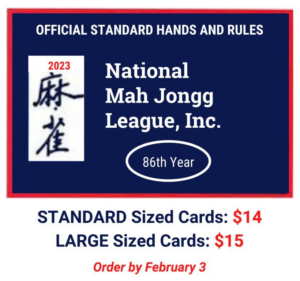 Mah Jongg Cards.
WTBA is selling the 2023 Mah Jongg cards. A portion of the card sales will benefit WTBA to help the Temple and Jewish Community. Cards are $14 for standard; $15 for large print. Cards will be mailed directly to you in late March/early April from the National Mah Jong League. Purchase your cards here.
| | | |
| --- | --- | --- |
| |   | Book Event – Feb. 7, 2022    Evening by Nessa Rappaport |
Recent Events
Sip and Shop at Locally Crafted. WTBA held this fun event at Locally Crafted, a store in Rio that features artwork from local crafters. We browsed the aisles of interesting and unique works of art while sipping wine and catching up with old and new friends. Thank you Jeanne Kahn for organizing this event and to the store owners, Stacey Hammer and Heather Luxenberg, for keeping the store open later and donating 10% of all sales to WTBA.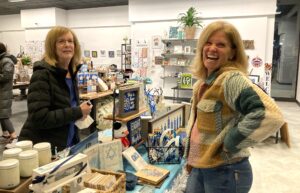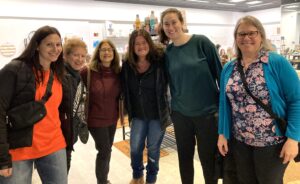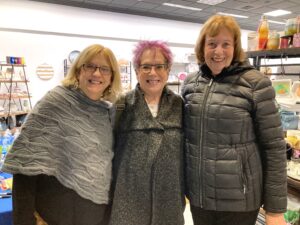 I Support the Girls. This is a non-profit organization that collects new and gently used bras and new menstrual products for distribution to homeless people. Earlier this month, WTBA had the opportunity to volunteer at their Rockville warehouse. We helped by counting donations of bras and personal care products in preparation for an audit. This will be an ongoing social action project. Please check our e-blasts for more information. Thank you to Judi Rosenzweig for organizing this mitzvah.