WTBA Wellness Wednesdays
03 May @ 7:30 pm - 8:30 pm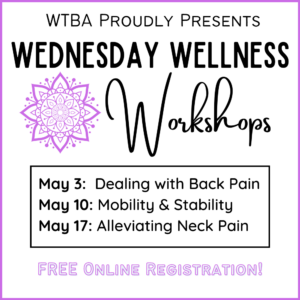 WTBA will be hosting Forever Fit Physical Therapy and Wellness on Wednesday, May 3, 10 and 17 from 7:30-8:30 pm.
Workshop Dates and Topics: 
May 3 – Back Pain Workshop
May 10 – Weeble Wobble But Don't Fall Down Workshop
May 17 – Neck Pain Workshop
This will be a hybrid event. For weekly zoom information please check the Monday email.
About Your Trainers: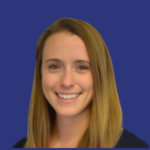 DR. JESSICA HART
PT, DPT, AIB VR/CON
PARTNER/CLINIC DIRECTOR
Dr. Jessica Hart worked as a Physical Therapy Technician for the company from 2012 to 2013 and rejoined as a Physical Therapist in 2016. She first became interested in physical therapy when she fractured her low back after years of playing competitive volleyball. Dr. Hart has completed her Dry Needling Certification and particularly enjoys treating hip, knee and foot injuries.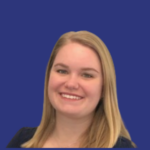 DR. KATHRYN JOHNSON
PT, DPT
CLINICAL DIRECTOR
Dr. Kathryn Johnson grew up playing competitive soccer and lacrosse in Carroll County, MD. She saw the immense need for physical therapy to help her return to sport and life activities following injuries, which led her to pursue physical therapy as a profession. Dr. Johnson joins the Forever Fit family after working for several years in the outpatient orthopedic setting, first starting as a staff PT, then as Director of Physical Therapy. She enjoys working with patients for all age ranges and injuries but has a particular passion for assisting patients with low back pain