New Member Welcome Reception
01 Sep @ 5:00 pm - 6:00 pm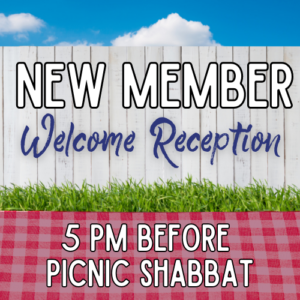 Join TBA for a special "Meet & Greet" family-friendly reception for NEW TBA Members before our September 1st Picnic Shabbat Service. You won't want to miss this opportunity to shmooze with other new members, mingle with our staff, clergy, and Board members, and enjoy some delicious nosh. But that's not all!
Once the reception is over, grab your lawn chair or beach blanket and head to the Rova (backyard) around 6 pm. Bring your own dinner to enjoy and get ready for an unforgettable evening. Our Erev Shabbat Services will begin at 6:30 pm with our Temple band, The ShabbaTones. Don't wait, mark your calendars and come join us for an evening of fun, community, and celebration!
 Festivities Begin at 5 pm on Friday, September 1
5 pm New Member Welcome Reception
6 pm Bring Your Own Picnic Dinner in the Rova (Backyard)
6:30 pm Picnic Shabbat Services Begin
RSVP to Shelly Gordon, Program & Engagement Director.