Adult Hike & Wine Tasting Event
07 May @ 2:00 pm - 4:00 pm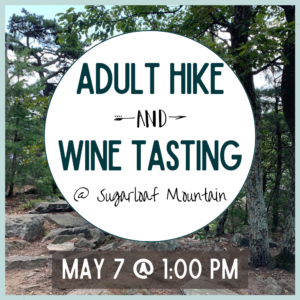 Join us at Sugarloaf Mountain for an Adult Hike & Wine Tasting Event! Register Today!
Sun., May 7, 1:00 PM
Meet at Sugarloaf Mountain, East View Parking Lot.
Participants should pay attention to local weather forecasts and dress accordingly, and bring their own water for the hike. Our hike up and back will take under 1 ½ hours, after which time everyone is invited to the vineyard at the bottom of the mountain.
Sugarloaf Mountain Vineyard
18125 Comus Road, Dickerson, MD 20842
Participants should bring $ for wine and snacks (there are food trucks on site), and/or bring your own! Also, please feel free to bring lawn chairs for schmoozing!
Note: This hike is for adults only.