Meaning & Mensches: A Shabbat Family Experience
05 May @ 6:30 pm - 7:30 pm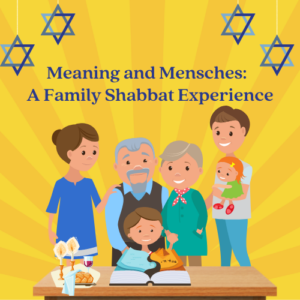 This family-friendly Shabbat service is designed to provide a meaningful worship experience for EVERYONE.
Machane TBA 5th Graders will have the honor of leading much of the service.  4th graders will observe the way a student-led service is run, as well as lead a familiar prayer from their seats.
Connect with fellow congregants in casual clothes! Begin the evening at 6 pm with "pre-neg" snacks, as well as adult and kid-friendly beverages.
Enjoy an interactive service starting at 6:30 that teaches life lessons found in the Torah.
Finish the evening with sweet treats during our Board Game Oneg. Bring your favorite game or enjoy one of ours!