Machane 3rd-6th Grade Kehillah
26 Mar @ 12:30 pm - 2:00 pm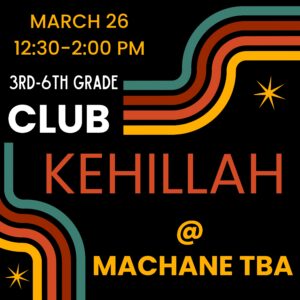 Machane TBA 3rd-6th graders are invited to be part of Club Kehillah immediately following Machane TBA on Sunday, March 26 from 12:30pm – 2pm.  Participants will have pizza, play gaga or basketball, have fun with hair tinsel, get their hands dirty with seed planting and more!
Registration required by March 22. Click here to register now.
Contact Alyssa Katon, L'mata Supervisor, with any questions.