Israel 75 Live with comedian Joel Chasnoff
23 Apr @ 6:30 pm - 8:30 pm
Want to laugh, learn, and connect with Israel? Come on out to Israel 75 Live – an evening of comedy, food, and conversation about Israeli history, life, and culture, in honor of the country's historic 75th birthday!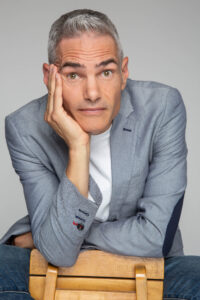 Joining us will be special guest Joel Chasnoff, co-author of the book Israel 201: Your Next-Level Guide to the Magic, Mystery, and Chaos of Life in the Holy Land. The book has received praise from such notable Jewish-world voices as Mayim Bialik, Yossi Klein Halevi, and former prime minister Ehud Barak.
Joel, a comedian by trade, will make us laugh and engage us in (friendly) debate about the current state of the country. Joel will introduce us to the oys and joys of Israeli life: everything from supposedly-English-speaking tour guides to government-sponsored Ulpan Hebrew classes and the culture shock he experienced as an oleh hadash (new immigrant). Unlike many Jewish comics, Joel bases his humor on real experiences and a deep love for Judaism and Israel, a love that shines through!
As Joel puts it: "I intend to show you the Israel you didn't know you didn't know, and shed some light on the challenges Israel faces today. My hope is that you'll leave with just as many questions as answers!"To learn more about Joel and his book, check out www.Israel201.com.
Event cost is $36 and includes catered Israeli buffet dinner from Shouk. Joel will also be onsite to sign copies of his book, which is available for purchase online.
Yallah! We'll see you there!