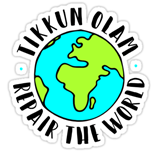 Tikkun Olam:
TBA's Community Service Committee
TBA's Tikkun Olam Committee provides opportunities for Temple members to help underserved people in our local community and beyond to fulfill the commandment of Tikkun Olam — "repairing the world." Some of the ways we do this include:
Anyone is welcome to join our Committee meetings, held on the third Tuesday of every other month at 7:30 pm via Zoom.
If you'd like more information about the Committee, have an idea for a new project, or would like to be added to the Committee's listserv to receive meeting information and other Committee communications, contact a member of our Leadership Team: Joanne Brodsky, Arlynn Joffe, or Gail Kaplan-Wassell. 
To donate to a specific program (e.g., school supplies, Children's Inn Thanksgiving, Refugee Resettlement Program), please indicate where to apply your donation in the Payment Notes section of the online donation form. If you prefer to donate by check, please email Joanne Brodsky to let her know how to allocate your donation. Thank you!
Assembly line for lasagna project for Nourish Now – October 2019
Sukkah assembly for JFGH – October 2019
Stuffed animals for Montgomery County Child Justice Center – October 2019
TBA volunteers serving dinner at shelter
TBA receiving Fain Award at 2019 Biennial
Rebuilding Together – Volunteers Reassembling Play House
Chanukah party at Brightview Assisted Living facility
Birthday Cakes 4 Free Decorating Crew
Rebuilding Together – Roger Rothman with very grateful homeowners
Community Reach – Rockland House – donating library honoring Rabbi Luxemburg
Christmas Dinner at Lord's Table