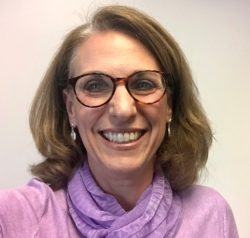 Debbie Ezrin became Temple Beth Ami's second Executive Director in November 2019. She is responsible for membership, building operations, finance, human resources, development, marketing, and programming/engagement. She serves as an ex-officio member of the Temple Board and Executive Committee. She is responsible for assisting the Board, committee chairs and staff in the strategic direction of the congregation, as well as all policies and programs of the Temple and its affiliates.
Prior to joining TBA, Debbie spent more than 25 years working for and with mission-driven organizations, where she developed expertise in nonprofit management, development, communications, volunteer management, board development, and strategic planning. Debbie and her husband Mark have two children, Melanie and Jared, who celebrated their B'nai Mitzvah and confirmations at Temple Beth Ami.
Contact Debbie at Dezrin@bethami.org.