Sukkot
Season of Rejoicing!
Sukkot, a Hebrew word meaning "booths" or "huts," refers to the Jewish festival of giving thanks for the fall harvest.  It also commemorates the 40 years of Jewish wandering in the desert after the giving of the Torah atop Mt. Sinai. Sukkot is celebrated five days after Yom Kippur on the 15th of Tishrei, and is marked by several distinct traditions. One, which takes the commandment to dwell in booths literally, is to erect a sukkah, a small, temporary booth or hut. Sukkot (in this case, the plural of sukkah) are commonly used during the seven-day festival for eating, entertaining and even for sleeping.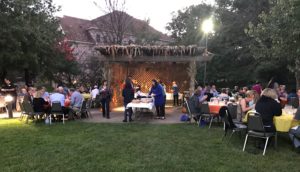 Sukkot, also called Z'man Simchateinu (Season of Our Rejoicing), is the only festival associated with an explicit commandment to rejoice. A final name for Sukkot is Chag HaAsif, (Festival of the Ingathering), representing a time to give thanks for the bounty of the earth during the fall harvest.
The Festival of Booths is a week-long festival that falls 5 days after Yom Kippur. It is a joyous festival and a welcome change of religious pace following the solemn days of prayer and introspection. The mitzvot for Sukkot are building and eating in the sukkah.
Build A Sukkah!

We put such emphasis on the High Holy Days that we sometimes miss out on the beautiful festival of Sukkot. Sukkot is time for reconnecting with our environment and celebrating our bounty with guests. Besides, who doesn't love sitting out in a Sukkah to enjoy a meal with family and friends. So, this year why not build your own sukkah? If you are handy and want to build one of your own design – good for you! If you are like Rabbi Pokras and couldn't drive a nail into a piece of wood if you were left alone in a room with a hammer, a nail and a piece of wood, then don't worry. You can purchase a "klutz proof" sukkah kit online from www.sukkot.com. Rabbi Pokras has successfully used his kit for the past twenty years, and if he can do it, then you can too. And because you are Beth Ami members, you can use the coupon code "sukkahdiscount2019" to get 5% off (does not apply to Panoramic Sukkah products or Esrog & Lulav Sets). Then, once you are in your Sukkah, send us a photo or a short video for us to share so that we can all see how beautiful this holiday is here at Beth Ami!
Sukkot in the Home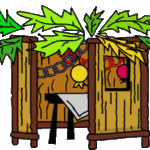 The holiday of Sukkot will be observed this year starting on Sunday, October 13, 2019.  There will be several opportunities offered through Temple Beth Ami to help you to bring Sukkot into your home.
S'chach for your Sukkah.
S'chach (cut greens for your Sukkah) can be ordered and available for pick-up at the Temple.  Homestead Farms will deliver to us recently cut corn stalks, bundled in bunch of approximately 20 – 25 stalks.
Cost: $30 per bunch
Pick Up: Thursday, Sept. 20; 2:00 p.m. – 6:00 p.m. (back of the Temple by loading dock)
(We cannot be responsible for S'chach left after Friday, September 21 at 3pm)
Lulav and Etrog for Sukkot.   These symbols of the holiday are used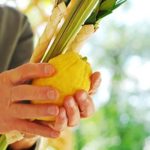 throughout Sukkot and may be brought to the Temple to enhance your celebration of Sukkot and Simchat Torah, the last day of Sukkot.  Through Elli-Chai's Judaic Treasures, we will be able to offer lulavim and etrogim that are made in Israel at a reasonable price. The sets differ in size and quality:
Cost: Student set – $50, Adult set – $55, and Deluxe set – $60.
Pick Up: Friday, October 11th, 12 noon – 3:00 pm or Sunday, October 13; anytime between 9:00 am and 2 pm, in the large refrigerator in the kitchen.
Please use the form below to order;
all orders must be received by September 23rd.
Take the
"Harvest Against Hunger" Challenge
To bring awareness of food insecurity in our Jewish community during Yom Kippur and Sukkot, Temple Beth Ami and Adat Shalom Reconstructionist Congregation have invited all of our MoCo sister synagogue communities to join us in a Manna Food Center competition from Kol Nidre night through Simchat Torah, from October 8 through October 22.  Our "Harvest Against Hunger" campaign challenges all of us to compete against one another by competing against ourselves to increase our seasonal healthy food contributions to Manna by at least 10%, bringing us back up to 2017 levels and maybe beyond!  Whichever of our communities has the biggest percentage growth over its own 2018 contribution – and let's say at least 10% increase! – is the winner, entitled to be the "Manna All-Star" community, with a trophy. 

Temple Beth Ami has accepted this challenge!!  Please remember to bring donated non-perishable food to the Temple during the upcoming High Holy Day season and make 5780 a record year and our congregation a "Manna All-Star" community winner. 

Most Needed Items-Manna Foood Center Grocery List

Instant oatmeal packets, original flavor

Brown rice (16 oz)

Whole grain pasta (16 oz)

Tuna, Salmon or Chicken, in water

Dry or canned beans (low sodium)

Natural nut butters

Canned vegetables (low-sodium)

Canned fruit (in juice) and fruit cups

Shelf-stable, individual milk boxes

Cooking oils & spices

Infant formula and baby food

** No Matzah please.

There are an estimated 63,000 residents in Montgomery County who do not know where their next meal will come from.  Our own neighbors do not have the resources to supply basic nutrition for themselves and their families.  Most heartbreaking is the impact on seniors and children in our area.  

Many of our local Jewish congregations have sponsored Yom Kippur food collections for Manna Food Center, which is Montgomery County's designated food bank with a singular mission of eliminating hunger in our County.  Temple Beth Ami has a long-standing communal tradition of helping to concretize the prophetic mandate to look past our religious rituals for true Teshuvah.  We've been in conversation with TBA member Mitchell Glassman, the Chair of Manna's Board, who brought us the news that, almost across the board, our holiday congregational food collections have been down by an average of 10% from 2017 to 2018.  Now they've come to us with a new challenge.