Sukkot
Season of Rejoicing!
Sukkot, a Hebrew word meaning "booths" or "huts," refers to the Jewish festival of giving thanks for the fall harvest.  It also commemorates the 40 years of Jewish wandering in the desert after the giving of the Torah atop Mt. Sinai. Sukkot is celebrated five days after Yom Kippur on the 15th of Tishrei, and is marked by several distinct traditions. One, which takes the commandment to dwell in booths literally, is to erect a sukkah, a small, temporary booth or hut. Sukkot (in this case, the plural of sukkah) are commonly used during the seven-day festival for eating, entertaining and even for sleeping.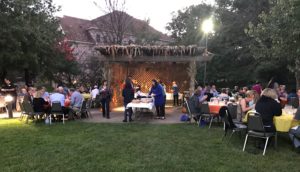 Sukkot, also called Z'man Simchateinu (Season of Our Rejoicing), is the only festival associated with an explicit commandment to rejoice. A final name for Sukkot is Chag HaAsif, (Festival of the Ingathering), representing a time to give thanks for the bounty of the earth during the fall harvest.
The Festival of Booths is a week-long festival that falls 5 days after Yom Kippur. It is a joyous festival and a welcome change of religious pace following the solemn days of prayer and introspection. The mitzvot for Sukkot are building and eating in the sukkah.
Sukkot in the Home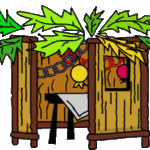 The holiday of Sukkot will be observed this year starting on Sunday, October 13, 2019.  There will be several opportunities offered through Temple Beth Ami to help you to bring Sukkot into your home.
S'chach for your Sukkah.
S'chach (cut greens for your Sukkah) can be ordered and available for pick-up at the Temple.  Homestead Farms will deliver to us recently cut corn stalks, bundled in bunch of approximately 20 – 25 stalks.
Cost: $30 per bunch
Pick Up: Thursday, Sept. 20; 2:00 p.m. – 6:00 p.m. (back of the Temple by loading dock)
(We cannot be responsible for S'chach left after Friday, September 21 at 3pm)
Lulav and Etrog for Sukkot.   These symbols of the holiday are used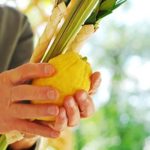 throughout Sukkot and may be brought to the Temple to enhance your celebration of Sukkot and Simchat Torah, the last day of Sukkot.  Through Elli-Chai's Judaic Treasures, we will be able to offer lulavim and etrogim that are made in Israel at a reasonable price. The sets differ in size and quality:
Cost: Student set – $50, Adult set – $55, and Deluxe set – $60.
Pick Up: Friday, October 11th, 12 noon – 3:00 pm or Sunday, October 13; anytime between 9:00 am and 2 pm, in the large refrigerator in the kitchen.
Please click here to download an order form;
all orders must be received by September 23rd.
Harvest Against Hunger Food Drive - Collecting between October 8-22
During this High Holy Days Season, beginning on Kol Nidre through Sukkot, Temple Beth Ami will continue our long-standing Jewish tradition of FEEDING THE HUNGRY by collecting healthy food for Manna Food Center, Montgomery County's designated food bank.
Your donations will help restock the shelves, helping Manna provide food to over 43,000 hungry people in our community.  Click below to find out more information.