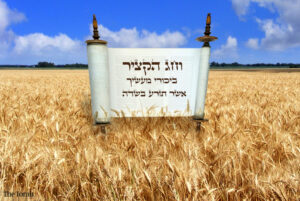 Shavuot is the Hebrew word for "weeks" and refers to the Jewish festival marking the giving of the Torah at Mount Sinai, which occurs seven weeks after Passover. Shavuot, like many other Jewish holidays, began as an ancient agricultural festival that marked the end of the spring barley harvest and the beginning of the summer wheat harvest. In ancient times, Shavuot was a pilgrimage festival during which Israelites brought crop offerings to the Temple in Jerusalem. Today, it is a celebration of Torah, education, and actively choosing to participate in Jewish life.
It is customary to eat dairy foods on Shavuot, such as cheese blintzes and cheesecake. While the origin of this custom is unknown, dairy dishes symbolize the sweetness of the Torah and the Jewish people's nearing the land of "milk and honey."
It is also customary to study the Torah during the night of Shavuot, in preparation for the revelation at Sinai the next morning. This late-night study session is called a Tikkun Leil Shavuot.  Additionally, in many synagogues, Shavout is linked with confirmation, marking a milestone in our children's formal religious education.  
At Temple Beth Ami, Shavout is celebrated with an Erev Shavuot Service (which includes Yizkor and a late-night time of study and reflection) and a Shavuot Family Celebration. 
2022 Service Schedule
All services will be held in the sanctuary and by live stream. 
Saturday, June 4 at 6:30 pm – Shavuot Service with Yizkor followed by a Tikkun Leil (study time with rabbis)
Sunday, June 5, 10:30 am – 12 pm – Family Friendly Shavuot Festival Service
Sunday, June 5, 11:30 am – 12 pm – Shavuot Pre-K Celebration with Cantor Larry
Everyone is welcome to join us on Sunday, June 5 from 12-1 for a complimentary pizza lunch plus the opportunity to purchase sweet treats from the Rocky Road Ice Cream Truck!