Passover
"Seven days you shall eat unleavened bread..." Exodus 12:15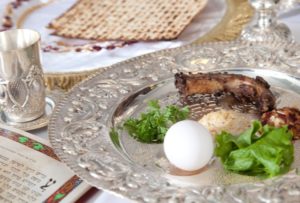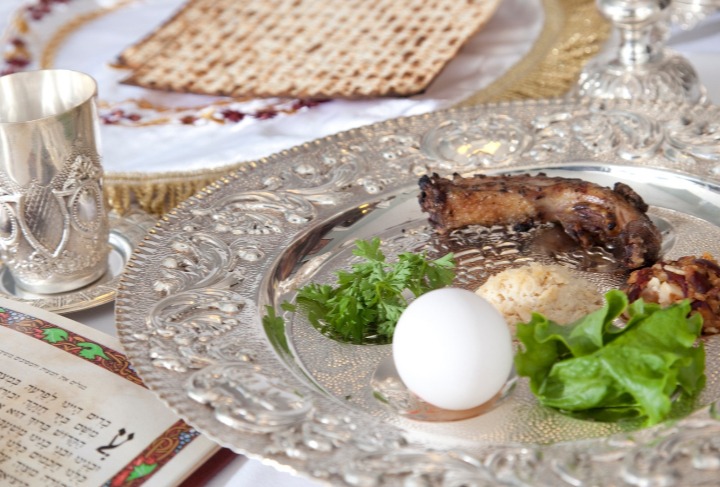 Pesach, known as Passover in English, is a major Jewish spring festival, commemorating the Exodus from Egypt over 3,000 years ago. The ritual observance of this holiday centers around a special home service called the seder (meaning "order") and a festive meal; the prohibition of chametz (leaven); and the eating of matzah (an unleavened bread). On the fifteenth day of Nisan in the Hebrew calendar, Jews gather with family and friends in the evening to read from a book called the haggadah, meaning "telling," which contains the order of prayers, rituals, readings, and songs for the Passover seder. Today, the holiday is a celebration of freedom and family.
Table Talk - conversations to have around your table this Passover
What has enslaved you this past year? What has limited you?

In Hebrew, Egypt is called Mitzrayim which can also be translated as "from narrow places."  What have been your narrow places and how did you overcome a limitation you had put upon yourself?  

For Kids: Like the "Little Engine that Could," what's one thing you didn't think you could do, but found out, if you tried, you could do.

When have you been the wicked child? Have you done something naughty or not followed the rules?

Is it ok to be rebellious or do things differently sometimes? When?

What is the coolest, most unique family tradition that you do for Passover?

If you do not have one, can you come up with one as a family?

How did YOU welcome a stranger or a new friend this year?

There is a midrash, a Jewish legend that says when the Israelites came to the Sea of Reeds (the Red Sea) and Moses lifted his staff to part the sea, it didn't immediately part. All the Israelites stood there waiting for something to happen, and everyone was afraid to take the first leap of faith. A brave man named Nachson slowly waded into the water.  First the water came up to his knees…nothing happened. Then it went up to his waist. Still nothing.  Then his chest and his shoulders…nothing. Finally, when he was chin deep-the water finally parted. 

Like Nachson, when did you take a risk and try something new? Was it scary at first? Was it worth taking the risk?

What is the chametz, the heavy stuff that you want to get rid of that holds you down?

Are there any bad habits you'd like to get rid of this Passover?

What would you like to be free to do this year?

For those of us living in the Diaspora, outside of Israel, how can we stay more connected to Israel?
7 Child Friendly Recipes for Passover
Matza Pancakes

Ingredients:
6 large eggs
1 c. matza meal
1 c. matza cake meal
3 T. sugar
2 ½ c. milk
1 t. vanilla

Directions:
1. Mix all of the ingredients together.
2. Pour ¼ – ½ c. portions into a greased skillet.
3. Cook on medium heat for approx. 2 minutes per side. Cook until golden
brown.
4. Top with syrup and enjoy!

Dogs in a Blanket

Ingredients:
½ c. oil
1 c. water
2 c. matza meal
1 t. salt
1 T. Sugar
4 eggs
12 hot dogs

Directions:
1. Combine oil and water in a saucepan. Bring to a boil.
2. Add dry ingredients. Mix well until mixture pulls away from side of pan.
Remove from heat.
3. Mix for 5 minutes then add eggs one at a time. Mix for another minute.
4. Divide into 12 portions. Shape the dough around each hot dog. Bake in a
325 degree oven on a greased cookie sheet. Bake until hot dogs are sizzling
and rolls are done, about 8-10 minutes.

Easy Chicken Nuggets

Ingredients:
2 c. matza cake meal
2 t. salt
½ t. pepper
4 chicken breasts (approx. 1 lb.), cut into 1 inch pieces
¼ c. oil, your preference (it sounds like a lot but is not)

Directions:
1. Preheat oven to 350 degrees F. Brush oil onto a rimmed baking sheet.
2. Place the matza cake meal, salt and pepper into a gallon plastic bag.
Shake to mix ingredients.
3. Add the chicken pieces (about ½ c. at a time) and seal the bag. DO NOT
PRESS OUT THE AIR. Shake to coat the chicken…this is a great
activity for children J…then place on the baking sheet. Repeat process
until all chicken is coated.
4. Turn each piece over to make sure there is oil on both sides of the
chicken piece.
5. Bake for 12-15 minutes or until pieces are baked through.

Matza Farfel and Cheese

Ingredients:
5 large eggs
1½ c. milk
1 c. sour cream
1 t. salt
¼ t. pepper
8 oz. shredded cheddar cheese
3 c. matza farfel
4 oz. extra sharp shredded cheddar cheese

Directions:
1. Preheat oven at 350 degrees F.
2. In a large bowl, beat the eggs, milk, salt and pepper together. Add the
sour cream, blend well. Then add the farfel and the 8 oz of cheese. Mix
well.
3. Pour into a greased 9×13 baking pan. Top with the remaining cheese.
4. Cover with tin foil and bake for 30 minutes. Uncover and allow the
cheese to brown, about 10 to 15 minutes.
5. Enjoy!
*This recipe doubles nicely and freezes well.

Matza Pizza

Ingredients:
4 T. vegetable oil
4 large eggs, slightly beaten
1 c. matzo meal
4 tablespoons water
2 teaspoon salt, if desired
1 c. pizza sauce, your choice
1 c. shredded mozzarella
Your favorite toppings

Directions:
1. Preheat oven to 350 degrees F.
2. In a bowl beat eggs; add oil, matzo meal and salt. Blend together. Add
water and mix until uniform. Cover and chill in refrigerator for about 20
minutes.
3. Spread mixture over a greased (cooking spray), rimmed baking sheet and
prebake for 5 minutes. Remove from the oven and top with the
remaining ingredients. Bake for 15 minutes or until cheese is slightly
golden.
4. Experiment with your favorite topping.

Passover Apricot Kugel

Ingredients:
1 lb. matza farfel, 4 cups of water
7 T. margarine, melted
7 eggs
2 t. vanilla
1 t. cinnamon
½ t. salt
2 15 oz. cans of apricots in juice (save juice)
1 c. sugar
1 c. water

Directions:
1. Place farfel in a colander. Pour water on top. Drain after farfel swells.
2. Beat eggs; add melted margarine, vanilla, cinnamon, salt, sugar and
water.
3. Chop apricots and then add them to egg mixture. Add half of the
juice and mix well.
4. Add farfel to egg mixture. Mix and pour into greased 9 x 13" pan.
5. Bake at 375 degrees for 30 minutes then lower temp to 350 degrees
and bake for an additional 35 min-40 minutes.

Chocolate Covered Toffee Matza

Ingredients:
8 matza boards
½ c. butter
1 c. brown sugar
8 oz chocolate chips

Directions:
1. Line a cookie sheet with foil and lay matza on pan.
2. Melt brown sugar with butter in saucepan; boil until mixture coats a
spoon.
3. Brush matza with brown sugar mixture.
4. Bake at 350 degrees for 3-4 minutes (watch closely-it burns easily)
until it starts to bubble. Remove from oven.
5. Cover with chocolate chips and put back in the oven until the chips start
to melt; 2-3 minutes.
6. Spread the chocolate to cover the matza.
7. Freeze until hard, then break into pieces.
Passover Baskets
Who: Adults, families
Where: Near the Temple
When: On a Sunday morning shortly before Pesach.
Deliver bags of Passover necessities and treats to Russian immigrants and other needy families in our area.  Contact Tina Levine or Monya Cohen for more information.
ORDER YOUR MATZOHGRAMS TODAY!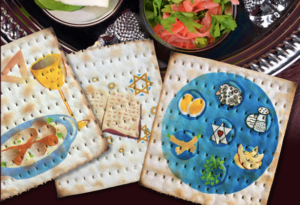 ORDER YOUR MATZOHGRAMS TODAY! Add a colorful, snazzy box of matzot to your Seder table AND support Temple Beth Ami! These make great hostess gifts and are certified Kosher! Click HERE and be sure to enter our code before checking out: RFM491.