Hanukkah
Be a part of the light!
Hanukkah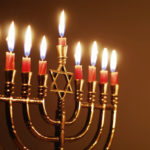 Hanukkah (alternately spelled Chanukah), meaning "dedication" in Hebrew, refers to the joyous eight-day celebration during which Jews commemorate the victory of the Maccabees over the armies of Syria in 165 B.C.E. and the subsequent liberation and "re-dedication" of the Temple in Jerusalem. The modern home celebration of Hanukkah centers around the lighting of the hanukkiyah, a special menorah for Hanukkah; foods prepared in oil including latkes (potato pancakes) and sufganiyot (jelly doughnuts); and special songs and games.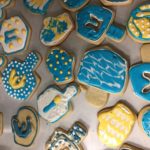 1st Candle – Sunday, December 22, 2019
(at sundown)
Last Candle – Sunday, December 29, 2019 
(Hanukkah ends at sundown on Monday)
Hanukkah songs, videos, family activities, and recipes
Beth Ami's Hanukkah Happenings:
All Your Chanukah Shopping Needs
Come see us!
The TBA Judaica Shop is fully stocked with a large assortment of Chanukah items – Candles, giftwrap, dreidels, small Chanukah toys and games, baby items, puzzles, jewelry, candy, and a beautiful assortment of menorahs.
The shop is open M & T 9:30-1:30, Wed 11-3 and Sun 8:45-12:45 when Machane is in session. 
They will also have tables set up in the lobby during Machane on Sundays in December, so take a few minutes to browse when you drop off or pick up your children!  
Shabbanukah at Beth Ami
Shabbanukah at Beth Ami
Hanukkah Happening Youth Concert Video
Hanukkah Happening Youth Concert Video