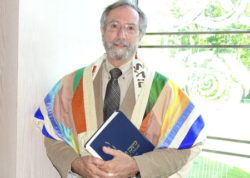 Rabbi Jack Luxemburg, Rabbi Emeritus retired after 35 years as Temple Beth Ami's Senior Rabbi, in July 2016. Beginning in July of 1981 as the congregation's first full-time Rabbi, Rabbi Luxemburg has been part of the Temple Beth Ami community for more than half of its history. His contributions to all facets of the congregation's life have enabled the Temple to preserve its special character, while enjoying a period of significant growth in membership and in both the quality and diversity of Temple programs.
Rabbi Luxemburg is active in the community, having served on the Executive Committees of the Jewish Community Council, the Jewish Social Service Agency, the Charles E. Smith Day School, the Mid-Atlantic region of the Central Conference of American Rabbis, the National Rabbinic Cabinet of the United Jewish Appeal, and the Washington Board of Rabbis. He was a founder and Vice President of the Suburban Maryland Chapter of the American Jewish Congress, and has served in that organization as President of the National Capital Region and member of its National Governing Council. The American Jewish Congress and the State of Israel have honored Rabbi Luxemburg for his service to the organization. He has also been honored by the local UJA/Federation and the Council of Jewish Federations in recognition of his leadership in the Jewish community. He is a founding member of ARZA, the Association of Reform Zionists in America. He remains active in local civic affairs as an instructor on Family Life Education for Montgomery County teachers, a member of the county's Civil Rights Monitoring Group, and an advisor to local legislators. Rabbi Luxemburg is profiled in "Who's Who in the East" and "Who's Who in Religion."
Rabbi Luxemburg is the only area Rabbi to have completed a study grant from the March of Dimes to train at Georgetown University Hospital in the field of Human Genetics and counseling human genetics problems. Rabbi Luxemburg received his Doctoral degree in Pastoral Theology from the Wesley Theological Seminary, Washington, D.C., culminating four years of academic study and clinical training. Articles and reviews by Rabbi Luxemburg have appeared in the Jewish Exponent, Philadelphia Bulletin, Reconstructionist Magazine and the Journal of Reform Judaism.
Rabbi Luxemburg is married to Barbara Etkind, a graduate of Brandeis University and the University of Michigan Law School. The Rabbi and Barbara are the proud parents of Daniel and Michael.