Machane TBAHigh (Grades 8-12)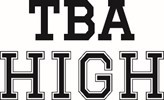 TBAHigh is a multi-faceted and all-encompassing approach to Jewish teen engagement for students in grade 8-12. TBAHigh meets on Tuesday evening from 6:30 pm – 8:00 pm with an optional pizza dinner from 6:00 pm – 6:30 pm. Our program focuses on Jewish learning, identity and community-building, and it draws on the best practices of successful youth engagement.  The structure of TBAHigh is the following:
About once per month, "Core 1 School-Wide Programs" are offered. These are large-scale programs on topics of Jewish teen interest.
Once per month, "Core 2 grade-level Programs" are scheduled. These include the following:
8th Grade – Comparative Judaism – students learn about the various major movements in American Judaism (includes speakers and trips on occasion).
9th Grade – Introduction to Comparative Religions – students learn about the connections between Judaism, Christianity and Islam (includes speakers and trips on occasion).
10th Grade – Confirmation Class taught by TBA clergy. During the Confirmation year, students explore their own Jewish identity.
11th Grade – Social Justice – students learn about the idea of social justice and about "doing" social justice and how YOU can make a difference.
12th Grade – Beyond High School – students spend the year focusing on what it means to live Jewishly after high school.  Topics covered during this year  include Jewish life on campus, friendships, freedom, money management, social justice, and Jewish practice as a young adult. Seniors participate in a special t-shirt quilt project in which they reminisce about their childhood via T-shirts collected through the years. After sharing personal stories about the shirts, they are made into beautiful quilts. Seniors also reflect on their studies at Temple Beth Ami, "why they stayed" (at Machane TBA) and they share the answer to that question with the congregation as part of a culminating spring graduation service. The senior year and the graduation ceremony are very meaningful opportunities for students to solidify their connections to their peers, to the congregation and to Judaism. 
Eleventh and twelfth grade students also experience two deeply impactful trips. The trips alternate between a Southern Civil Rights Journey which traces the steps of the Civil Rights Movement in Georgia and Alabama and the "L'Taken" program  run by the Religious Action Center during which students have the opportunity to learn about the legislative process and to lobby on Capitol Hill.  
During 2018-2019, the Chug 1 Electives night offers Confirmation class (10th grade), Cooking, Homework Hangout, Social Action, and 3-D Printing. The Chug 2 Electives night offers the Aliyah Bet class (a text and film-based class for students in grades 8-12 who like to delve more deeply into academic topics), Homework Hangout, Sports and Jewish Games, Leadership, Student Council Committees, and Yoga.
TBAHigh Kehillah Events – community building programs held on Sunday afternoons.

During 2018-2019, TBAHigh Kehillah events will take place on the following dates: October 21, November 11, February 10, March 3, April 7
Rosh Hashanah Teen Service: September 10, 2018
TBAHigh Shabbat Service: February 1, 2019  7:30 pm
TBAHigh Shabbat Service: March 29, 2019  7:30 pm
12th Grade Graduation Service: 
April 12, 2019 7:30-8:45 pm
Senior Send-Off at Picnic Shabbat:
May 24, 2019 6:30 pm
Confirmation Service & Lunch: 
June 9, 2019 10:30 am-2:00 pm
8th Grade Overnight at Baltimore: November 9-10, 2018
9th Grade Love, Relationships & Sexuality Retreat: February 8-10, 2019
10th Grade Confirmation Trip to NYC: October 26-28, 2018
11th & 12th Grade Southern Civil Rights Journey: January 24-27, 2019
TBAHigh elects teen leaders who lead their committees to help shape all aspects of programming. Teens have the opportunity to serve on the committees and also to run for executive board. Board members meet every Tuesday when class is in session. The Executive Board also meets with individual committees on Chug 2 Program nights to plan programs for the school year. Committees include the following:

Religious and Cultural Committee
Programming Committee
Social Action
Kehillah Events

TBAHigh 2018-2019 Executive Board

President: Jordyn Wagman

Programming VP: Andrew Schorr

Religious & Cultural Programs VP: Jack Kahler

Social Action VP: Marisa Sobel

Kehillah VP: Jake Carin
LEAD (NFTY Leadership) at Camp Louise: September 28-30, 2018
Fall Kallah – Location TBD, for 9th-12th Graders: November 16-18, 2018
Winter Kallah in Wakefield, VA for 9th-12th Graders: January 18-21, 2019
TheVent in Durham, NC for 8th-12th Graders: March 8-10, 2019
Spring Kallah at Camp Harlam for 8th-12th Graders: April 25-28, 2019
TBAHigh Faculty:
 8th Grade – Joshua Joress, Rivka Magier, Jacob Zabihi, Talya Kravitz
9th Grade – Sarah Lader, Adam Cines, Elaine Prigal, Gwynne Gershenson
10th Grade – Rabbi Pokras, Rabbi Weiss, Cantor Eschler, Eden Golub
11th Grade – Michael Becker, Eden Golub
12th Grade – Sara Barth
Supervisor – Lori Fein
Curriculum Specialist – Sharon Tash