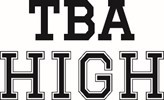 TBAHigh is a multi-faceted and all-encompassing approach to Jewish teen engagement for students in grade 8-12.  Our program focuses on Jewish learning, identity and community-building, and it draws on the best practices of successful youth engagement.  
Core 1:  School-Wide Large Scale Programs
Core 2:  Grade Level Kehillah/Chugim
Art, Cooking, Social Action, Jewish Games & Sports
Confirmation (10th Grade)
Core 3:  Grade Level Curriculum:
8th Grade – Comparative Judaism – students learn about the various major movements in American Judaism (includes speakers and trips on occasion).
9th Grade – Introduction to Comparative Religions – students learn about the connections between Judaism, Christianity and Islam (includes speakers and trips on occasion).
10th Grade – Confirmation Class taught by TBA clergy. During the Confirmation year, students explore their own Jewish identity.
11th Grade – Social Justice – students learn about the idea of social justice and about "doing" social justice and how YOU can make a difference.
12th Grade – Beyond High School – students spend the year focusing on what it means to live Jewishly after high school.  Topics covered during this year  include Jewish life on campus, friendships, freedom, money management, social justice, and Jewish practice as a young adult. Seniors participate in a special t-shirt quilt project in which they reminisce about their childhood via T-shirts collected through the years. After sharing personal stories about the shirts, they are made into beautiful quilts. Seniors also reflect on their studies at Temple Beth Ami, "why they stayed" (at Machane TBA) and they share the answer to that question with the congregation as part of a culminating spring graduation service. The senior year and the graduation ceremony are very meaningful opportunities for students to solidify their connections to their peers, to the congregation and to Judaism. 
Electives:  
Aliyah Bet
Leadership
Homework Hangout
Student Council Committee Meetings
Trips and Retreats:
Each year, a special trip or retreat is planned for each grade.
8th Grade:  Overnight at Baltimore Aquarium
9th Grade:  Love, Relationships and Sexuality Retreat – Held at TBA
10th Grade:  Confirmation trip to NYC
11th & 12th Grade : Trips alternate between a Southern Civil Rights Journey and the "L'Taken" program  run by the Religious Action Center.
Trip and retreat dates are shared on the Machane Calendar and Month at a Glance, which can be found on the Machane website.