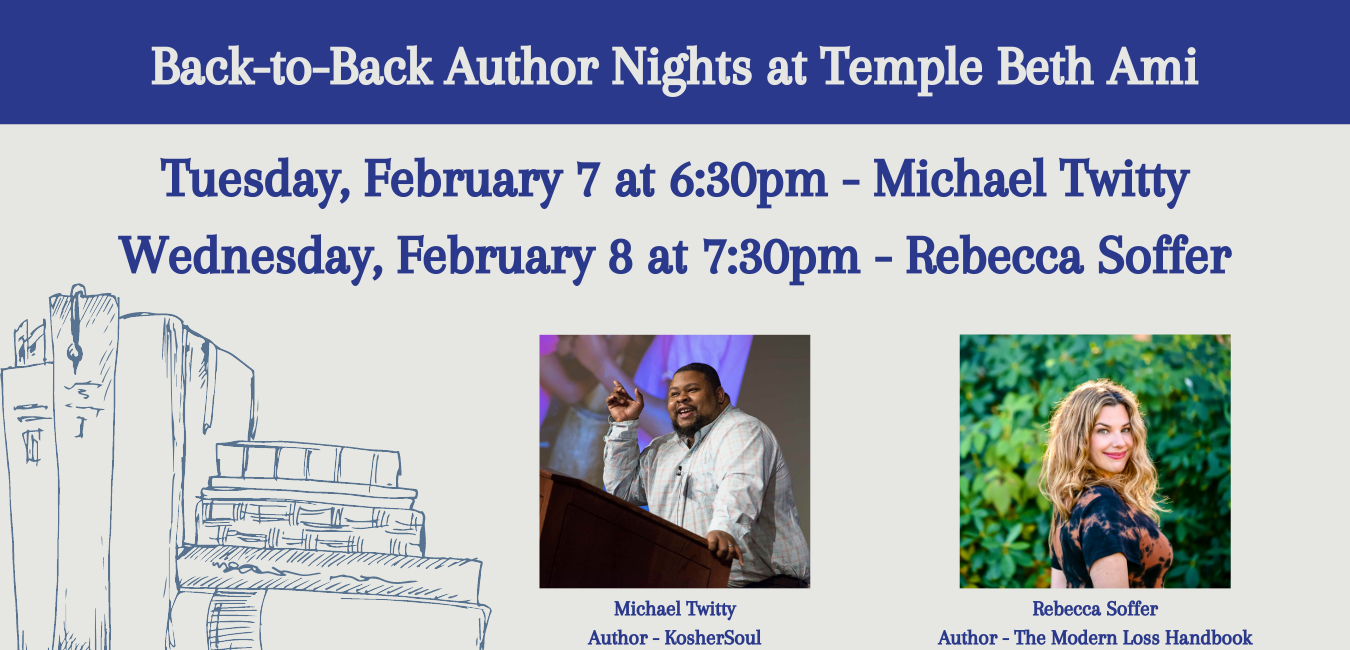 Michael Twitty
Hear from Michael Twitty, African-American Jewish writer, culinary historian and educator, and author of
KosherSoul: The Faith and Food Journey of an African American Jew.
Koshersoul
, chef Michael W. Twitty's memoir about his career fusing Jewish and African-American culinary histories, was named the Jewish book of 2022 by the Jewish Book Council. A former Machane TBA teacher, Michael will be speaking about his experience as a Black, Jewish, and Gay Southern food writer in this can't miss event! A Meet & Greet and reception featuring a sampling of Michael's favorite dishes will immediately follow the program. Michael will be autographing books during the reception, so
buy your copy of KosherSoul
 in advance.
This FREE event is 
sponsored by the Cultural Arts Fund in memory of Sue Roemer to donate, click here. 
This event will take place live in the Sanctuary and on 
Livestream
.
Rebecca Soffer
The Modern Loss Handbook: An Interactive Guide to Moving Through Grief and Building Your Resilience
is what author
Rebecca
Soffer
wished she had after her parents died, offering a welcoming space in which to grow thoughts and feelings as they evolve and create a personal roadmap toward resilience. With warmth, wit, and disarming humor,
Soffer
and Rabbi Baht Weiss will unpack the wisdom of the book and discuss how the long arc of loss can be woven into our lives in a way that is practical, creative, comforting, provoking, and, finally, hopeful.
This free event is made possible through the Jewish Book Council. 
This event will take place in person and on
Livestream
.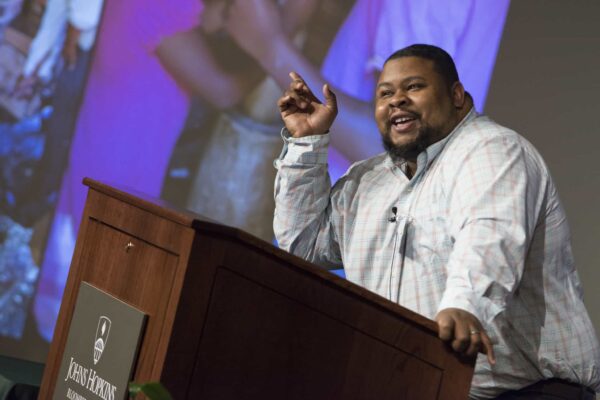 About Michael Twitty
Michael W. Twitty is a culinary historian and food writer from the Washington D.C. area. He blogs at Afroculinaria.com. He's appeared on Bizarre Foods America with Andrew Zimmern, Many Rivers to Cross with Henry Louis Gates and most recently Taste the Nation with Top Chef's Padma Lakshmi. HarperCollins released Twitty's The Cooking Gene, in 2017, tracing his ancestry through food from Africa to America and from slavery to freedom, a finalist for The Kirkus Prize and The Art of Eating Prize and a 3rd place winner of Barnes & Noble's Discover New Writer's Awards in Nonfiction. The Cooking Gene won the 2018 James Beard Award for best writing as well as book of the year, making him the first Black author so awarded. His piece on visiting Ghana in Bon Appetit was included in Best Food Writing in 2019 and was nominated for a 2019 James Beard Award. His next book, Rice became available through UNC Press in 2021. KosherSoul, his follow-up to The Cooking Gene, will be out in August 2022 through HarperCollins. Michael has a hit spice line based on The Cooking Gene and a recent special guest appearance on Michelle Obama's Waffles and Mochi show on Netflix. Michael can also be found on MasterClass online, where he teaches Tracing Your Roots Through Food.
About Rebecca Soffer
Rebecca Soffer is cofounder of Modern Loss, which offers creative, meaningful and encouraging content and community addressing the long arc of grief. She is also the author of the bestselling "The Modern Loss Handbook: An Interactive Guide to Moving Through Grief and Building Your Resilience," which Gayle King named one of her two favorite books of 2022. Rebecca is also coauthor of the book "Modern Loss: Candid Conversation About Grief. Beginners Welcome," which The Strategist named a best book on loss for a younger generation. Her writing has appeared in outlets such as The New York Times, TIME, Glamour and NBC. Rebecca is a Peabody Award-winning former producer for The Colbert Report and a Columbia University Graduate School of Journalism alumna.