Miketz - 5779
Genesis 41:1 – 44:17
Joseph was a dreamer, who could read the future in his own dreams and the dreams of others. As a youth he dreamed that his family would one day bow down to him. In the dungeon he interpreted the dreams of Pharaoh's cup bearer and baker, predicting that the baker would be executed in three days and the cup bearer released. In Miketz, Pharaoh dreams troubling dreams which none of his advisors could interpret. Eventually, the cup bearer remembers Joseph, who is called from the dungeon to interpret for Pharaoh.
Joseph tells Pharaoh that his dreams predict seven years of famine, which will be preceded by seven years of plenty. Joseph also explains that the repetition of Pharaoh's dreams means that God is communicating directly with Pharaoh, and that the matter is fixed. There is no way to avert the famine.
What happens next is nothing less than extraordinary. Joseph, an imprisoned foreign slave, represents the very lowest stratum of the Egyptian social hierarchy. He stands before Pharaoh, the most powerful man in the land, who with a single breath could send Joseph to his death. What does Joseph do? He takes an enormously chutzpadik chance. Joseph does not stop speaking once he has finished interpreting the dreams as Pharaoh commanded. Instead, with the utmost temerity, he dares to offer Pharaoh unsolicited counsel and advice, saying:
"And so, let Pharaoh look out for a discerning, wise man and set him over the land of Egypt. Let Pharaoh do this: appoint overseers for the land and muster the land of Egypt in the seven years of plenty. Let them collect all the food of these good years that are coming and let them pile up grain under Pharaoh's hand, food in the cities, to keep under guard. And the food will be a reserve for the land for the seven years of famine which will follow in the land of Egypt, that the land may not perish in the famine." [Gen. 41:33-36]
The rest, as they say, is history. Pharaoh is so taken with the idea, that he promotes Joseph instantly to the rank of viceroy of Egypt and puts him in charge of executing the plan.
Yes, Joseph was a dreamer, but he was also a man of action.
I am reminded of a quote I have taped to the bookshelf next to my computer screen for inspiration. It is based on something Thomas Edison once said, and is also connected to an ancient Japanese proverb: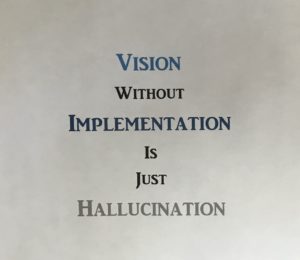 These are wise words to live by, and yet, by themselves are not enough to capture the full power of this moment in Torah. The rabbis connect Joseph's actions with the Glory of God, so the last word in this week's commentary goes to the great Rabbi Akiva, who taught [Pirke Avot 3:15]: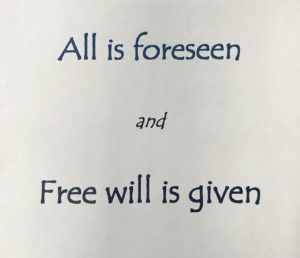 Recent Posts by Rabbi Pokras