President's Message
First, a bit of TBA business, and then some summer thoughts.
I want to remind you that our Vision 2020 Action Teams are hard at work over the summer. If you are interested in participating, you can still join one of the teams: Dues Models, Fundraising, Membership Engagement, Communications, or Spirituality. Let me know if you're interested and I'll put you in touch with the committee chair.
I hope you are enjoying your summer and that you've been able to vacation with your family. Lynn and I like to go to the mountains when we can. 
Several years ago, we discovered Acadia National Park in Maine. We've been there quite a few times in the past 10 years. The park is on the coast, but there are few beaches there as the coast is entirely rocky. Mountains come right up to the coast as well, making it a perfect place for us to relax. There have been days when we sat on the rocks near the water and did nothing but watch the tide come in and go out again. We also walk and hike as much as possible.
The tallest peak in the park, and for quite a distance around the park, is Cadillac Mountain. One of the big attractions of Cadillac Mountain, because it is the tallest peak around, is watching the sunset from an overlook on the west side of the mountain. We have watched the sunset from that overlook quite a few times, and it never fails to impress. On one of our trips, we went up to see the sun set on a Friday evening. We had just found a comfortable place to sit when we became aware of a group just a little higher than us that seemed to be preparing to make Shabbat. We could see that they had a challah and grape juice, and the part of the conversation that we could overhear made it clear that it was no coincidence that they had brought these to the overlook. We walked over to talk with them and wish them Shabbat Shalom. That was all they needed; they invited us join them, and they enthusiastically welcomed us into their group. We made the blessings over the wine and challah (it's much too windy there to even think about lighting candles) and sang a few songs with them. It was one of the best vacation sunsets we've ever experienced.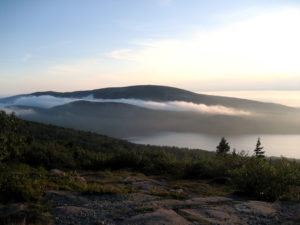 All of this reminds me that as we travel during the summer, let's remember that we don't need to leave Shabbat at home. You can celebrate Shabbat anywhere and doing so will likely become one of your more cherished memories of your summer travel.
When you see me in the fall, ask me where Lynn and I celebrated Shabbat this summer! 
Recent Posts by Buzz Karpay