The Vision 2020 Project invites the entire congregation to take an active role in shaping our synagogue's future.
Through Vision 2020 we will take an objective view of external and internal trends that impact our membership and shape our congregation's path to the future. We will work together to understand the changing social landscape, researching how new challenges like shifting demographics, generational feelings about affiliation, decreasing membership across membership organizations, and economic uncertainties will impact our ability to sustain and grow our communiity.
We will use this information to guide us as we explore membership and dues models, engagement and education across all demographics, management and operations, fundraising and finances, communication, facilities, and governance.
Our goal is to keep Temple Beth Ami an active, growing, inclusive, and vital spiritual community for the next 20 years and beyond.
Our comprehensive strategic planning initiative will offer many opportunities for your participation:
House meetings

Face-to-face discussions

Congregational survey
Our Vision 2020 Committee wants to actively involve all parts of our congregational community.
Look for specific dates in the Temple's weekly Up to the Minute as well as dedicated e-blasts that will direct you to RSVP for events from mid-January through mid-March.
The process is designed around out-of-the-box thinking. Our goal is to create a collaborative culture that invites and embraces new ideas and which stimulates creative thinking. All ideas are welcome. We can't achieve big things unless we're open to the possibilities.
We will keep this process as transparent as possible. Through this page will will give the enire congregation access to the materials we have collected, the events we are planning, the research we do, and the conclusions we draw.
If you want more information, or wish to become more involved in this process, please contact the Vision 2020 chairs, Nancy Shapiro and Tom Temin.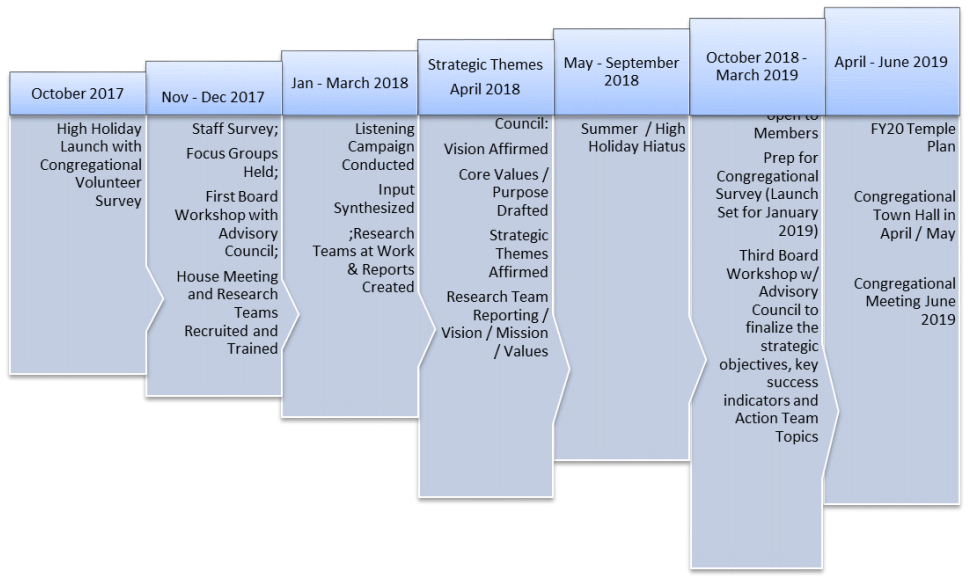 Questions and Answers

Your Steering Committee is of the mind that if one person has a question, there's a good chance others have the same one. So, in the interest of open communication and information sharing, here is a running compendium of congregant questions, answered by our co-chairs Tom Temin and Nancy Shapiro.

January 2018

1. With a new senior rabbi, is this really a good time for a major strategic planning initiative, bringing more change to our TBA community?

The 2020 project is a TBA Board initiative, conceived two years before the rabbinic transition. Our Vision 2020 planning was delayed because of the timing of the hiring and transitioning our new rabbi.

While Rabbi Pokras has endorsed the strategic planning and will use it to inform his future leadership, TBA Vision 2020 is primarily a lay-led effort, centered on a group chartered by the Board of Directors.

When there are significant risks to an organization's health, as there are for TBA right now with the $100,000 budget deficit, it would be irresponsible for the rabbi and the board to delay the kind of strategic study required to find workable solutions. A comprehensive strategic planning process, guided by engaged congregants who are contributing their talents and experience we hope will prove an effective way for TBA to achieve sustainable success.

Through a good planning process, TBA can set its priorities in ways that are consistent with its values, purpose and community interests

2. I didn't see Israel or the relationship between Jews and Israel on the list of research topics for the strategic plan. Isn't our commitment to Israel one of our temple's core principles?

The TBA congregation's relationship with Israel and Israeli causes is longstanding and deep – even as many members wrestle Israeli governmental policies with which they disagree. Because we expect this relationship to continue and evolve, we are very supportive of the thoughtful space that the Israel Matters group provides for this discussion and we encourage anyone interested in this topic to actively participate in that group. The Israel Matters group meets regularly and provides an ongoing forum for discussions related to Israel.

3. Given our $100k deficit, can you give us some examples of alternative dues models to consider?

Most membership organizations, including religious institutions nationwide, are suffering from decreasing revenue and membership attrition. Therefore, a lot of work has been focused on alternative models. Check out: New Membership and Financial Alternatives for the American Synagogue by Rabbis Kerry & Avi Olitzky (http://www.jewishlights.com/page/product/978-1-58023-820-5) for wonderful information about synagogues of all sizes across the country experimenting in membership and dues models, including implementation and next steps. This book is being used by our dues model research team. Our strategic planning process makes no pre-suppositions as to what might be the best model for Temple Beth Ami. A research group will present a range of potential alternatives.

4. How will we ensure the planning encompasses all of the voices, including those who are not highly engaged and those who might be potential members of the congregation?

We have a multi-faceted congregational communications plan to ensure as much outreach and information as possible. Our Steering Committee, clergy, senior staff, board and team leaders are all working hard on involving the widest range of congregants. Please encourage anyone you know who might be a candidate for involvement in the research and planning to call or contact Tom or Nancy.