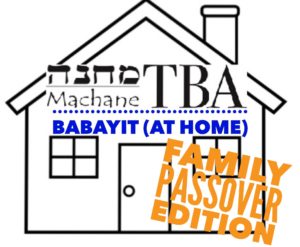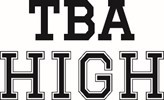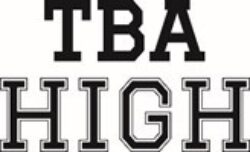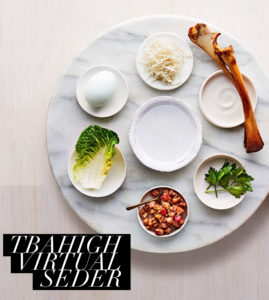 Virtual Live TBAHigh Seder:
Join us on Tuesday, April 7 from 6:30-7:15 for our first Virtual Live TBAHigh Seder created by Cantorial Soloist and 9th Grade advisor, Ben Pagliaro, Melissa Herman (Religious and Cultural Vice President) and her awesome committee members, Eli Schwartzman and Lily King!
ZOOM link: https://us04web.zoom.us/j/132459413
Meeting ID:  132 459 413
What you need for the Seder:
Please check out this list of 6 Things You Need to Bring to Our Seder TONIGHT and have everything ready before we begin!
10 Plagues Photo Scavenger Hunt:
We will have a photo contest to see who takes the best picture for each plague! We will give you instructions at the Seder so you can submit your photos. You can take pictures before our Seder or after, but you only have until midnight tonight to submit them!  Here's the info: 10 Plagues Photo Scavenger Hunt
Grade-level ZOOM calls:
Following the Virtual Live TBAHigh Seder, there will be grade level ZOOM calls at 7:15: 
Passover Joke:
What's the best kind of cheese to eat at Passover?
The answer is at the bottom of the page!
Ways to engage at your Seder:
With Pesach right around the corner we start preparing for the Seders. Check out this AWESOME activity and ways to engage at your Passover Seder.  As a teen, your voice can be heard and you can help start intentional conversations about current events at your Passover Seder.
Passover Essay Contest:
One of the Jewish peoples most sacred and widely observed holidays, Passover, commemorates the story of Israelites' departure from ancient Egypt. In your opinion, is Passover too commercialized? If it is one of the most important Jewish holidays, is it given enough attention?  Write an essay that is no longer than 1,000 words that answers these questions.
Submit all essays to Elaine Prigal by April 19th. Winners will be announced by April 21st. The winner will get free pizza on the first night of TBAHigh 2020-2021!
Emoji Haggadah:
One of the biggest mitzvot of Passover is the retelling of the story of the Jews in Egypt. Click on this fun Emoji Haggadah to share the story.
Bingo:
If you want to play a traditional game of Passover Bingo, print out the cards to play at home and email them to family members so you can play long distance too!
Pesach Sudoku:
This fun Passover-themed brain game is sure to make you smile!  Good luck – its pretty tricky!  
Chocolate Seder:
A SWEET new tradition! Check out the URJ's awesome edition of the Chocolate Seder. Continue with the order of the Seder and sharing the story of Passover in a fun new way!
I Have a Voice:
As we get closer to Passover, we remember how Moses stood up to Pharaoh to save the Jewish people. Each one of us has the same power to create change in our world!
The song "I Have a Voice" reminds us:
We have a voice
Our voice is powerful
Our voice can change the world!
* Special Rap by Benny P included in this awesome edition!
Passover Cupcakes:
Root vegetables are an important part of the Passover meal, in part because these hardy vegetables are easily grown in Eastern and Western Europe and Russia—where approximately two-thirds of the modern-day Jewish population originated. These potato yogurt cupcakes are a healthy and delicious treat to be shared during this special Jewish holiday.  
Charoset:
On Passover we eat so many different foods! There are so many new and yummy recipes we get to try each year. One of the important foods we eat at the seder is Charoset. It is meant to symbolize the brick and cement that the Jewish people used to build the pyramids in Egypt.
Check out this video of Mr. Rosenstock (Machane TBA Cooking Specialist) making his version of Charoset. Here's the recipe.
Sunday Teacher Max Makes Matzah!
Want to make some Matzah at home this year? Check out this super easy fun recipe and video to make it right at home! Chag Sameach
TBAHigh Leadership:
We want you to be part of the TBAHigh leadership!  Help shape programming for TBAHigh and apply to be on the Executive Board of the Student Council!  Application deadline is Sunday, April 19.  
Live via ZOOM from Israel:
Join the amazing staff at Alexander Muss High School in Israel Mondays through Thursdays at 1 PM EDT live via ZOOM from Israel. This is a great way for students to connect and engage in a world-wide class experience with teens to learn interesting and exciting topics about Israel and Zionism. Join for one or join for all!    ZOOM link: https://jnf.zoom.us/j/769961741
Tuesday, April 7 with Lisa Biton: The Tel Aviv Bus Station: How does this bus station show us the challenges that Israel faces as a modern country?
No Class Wed. April 8 and Thurs. April 9 due to Passover
Monday, April 13 with Naftali Aklum
Tuesday, April 14 with Mordechai Cohen: What do Rembrandt, Verdi, Boney M and Lewis and Clark have to do with Israel?
Wed. April 15 and Thurs. April 16 No class due to Passover
Monday April 20 with David Mitchell: Israel ingenuity in times of war
Tuesday April 21 with Benjy Behrman: Redemption in our time?
Wednesday April 22 with Jacob Liebowitz: Benjamin Netanyahu-How the most polarizing leader in modern Israel's history keeps on winning
Thurs. April 23 with Akiva Gersh-The Music of Israel
Passover joke answer: Matzo-rella cheese!
Would you like to see the Machane TBA BaBayit pages from previous weeks, or for another grade level?
It's all on the Machane TBA home page!