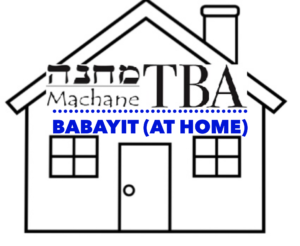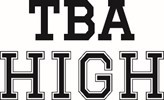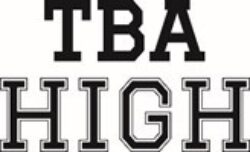 We look forward to Zoom calls each Tuesday from 6:30-7:15pm.   Join us to catch up with friends and continue to be a part of our amazing Kehillah (community)!  
Helpful hints for using Zoom:
– Better to use a computer rather than a phone.  On a phone you will only see 4 participants at a time, while on a computer you'll see everyone at once!
– Play around with Zoom ahead of time and let your teacher know if you have any questions.
– Need a quick tutorial on how to use Zoom? Click here!
TBAHigh Zoom calls – Tuesday, March 31 from 6:30-7:15pm:
Torah Portion: Tsav
We learn many things from this portion. Although some of the rituals and traditions addressed in this Parsha are no longer done today, there are many imporant lessons that we can learn from them. This portion speaks to the importance of rituals and how it connects us all as a community. Rituals can be religious, but they can also be things we do to create order for ourselves and to guide us. During a time when there is so much uncertainty, the rituals in our lives can be things that ground us and give us a sense of normalcy. Traditions and routines do the same.
We are lucky to be able to continue to connect each week over Zoom calls as a way to keep our tradition and ritual of seeing each other and continuing our Kehillah Kadosha (sacred community).
Another important aspect that this portion speaks to is the value of keeping the fire going. The Israelites were supposed to ensure the light NEVER went out. We have a similar idea today, the Ner Tamid (the light above the Arc at TBA). This light never goes out and is supposed to serve as a reminder of this very idea. At the end of the video they explain how the fire can be compared to the fire within each of us and how we must keep it alive to continue our connection with each other and God.
We look forward to seeing everyone on Zoom Tuesday night to continue our connection and strengthen our Kehillah Kedosha (sacred community).
Here is our awesome song leader Josh singing "I Have a Voice". 
As the song reminds us:
We have a voice
Our voice is powerful
Our voice can change the world!
We want you to be part of the TBAHigh leadership!  Help shape programming for TBAHigh and apply to be on the Executive Board of the Student Council!  Application deadline is Sunday, April 19.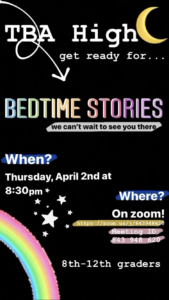 Join our TBAHigh Bedtime Stories Zoom Call! 
Thursday, April 2 at 8:30 pm, let's get cozy in our pjs, with a special stuffed animal, as our Executive Board reads their favorite bedtime stories!  Feel free to bring a book or have a story ready to share if you want to!  
ZOOM Link: https://zoom.us/j/843948620  Meeting ID: 843 948 620
Wake Up Call for Madrichim on Sunday, April 5 at 2:00pm!  I know you're taking advantage of sleeping in, but we miss you so come talk to Lori Fein & Jake Carin, the Madrichim Liaison!  

ZOOM link: https://zoom.us/j/245424341
Meeting ID: 245 424 341                       
---

Israel Studies Online Classes:
The Israel Studies department at AMHSI-JNF are offering live online classes via ZOOM for teens, families, and anyone else who wants to exercise their mind at this time every Monday – Thursday at 1pm ET. Please join us as students of all ages connect and engage with others to learn interesting and exciting topics around Israel and Zionism.
Week 2
Tuesday March 31st – Mordechai Cohen: Amazing Archaeological Discoveries!
Wednesday April 1st – David Bitan: Israel Through Song
Thursday April 2nd – Danny Stein: Jewish history: How the Challenges We Have Faced Made Us Stronger
Just click on the ZOOM link for every call to join us! We can't wait to see you!
https://jnf.zoom.us/j/973526764
or by phone:
+16468769923,,973526764# US (New York)