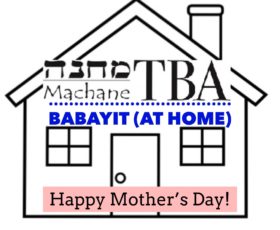 Mrs. Fein sends a Mother's Day greeting!
Talent also starts with the same sound as the letter Tav. Next Sunday, May 17, we will have a Talent Show in our class! Come ready to share a special talent with us!
Hebrew Reading Game:
Did you save your letters from when you played the Hebrew Reading Game last Sunday?  If not, please print this Hebrew Letter Chart and Hebrew Vowel Chart and cut out the letters and vowels to play Cantor Larry's Hebrew Reading Game below.
A new Wednesday morning LIVE SHIRA song session from the Temple Beth Ami Facebook page with Cantor Larry!
Would you like to see Machane TBA BaBayit content from previous weeks, or for another grade level?
It's all on the Machane TBA home page!
Be our "friend" on Facebook for more content, photos, and fun!