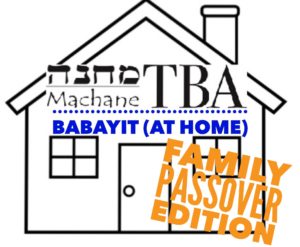 Welcome to the Machane TBA BaBayit Family Passover Edition – Part 1 
Welcome to the Machane TBA BaBayit Family Passover Edition – Part 1 
The Joyous Haggadah:

Please join this fun and engaging family friendly seder with Rabbi Weiss and Cantor Larry.  Feel free to follow and sing along with the Joyous Haggadah.  Chag Sameach!
The Four Questions:
If you want to learn the Four Questions or sing along, here they are in Hebrew, Hebrew transliteration and English!
L'mata 3rd Grade teacher Shira Tassiello shows us the Four Questions in Sign Language,  alongside L'mata 4th Grade Teacher Eden Golub.  See if you can learn alongside the video!
Post a video on the Machane TBA Facebook page doing the Four Questions in Sign Language.
L'mala/L'mata (Gr. 3-6) T'filah:
This weeks T'filah focuses on Miriam and Moses as we get closer to and start preparing for Passover. There are some really exciting Shira songs that our students look forward to each week as well. 
Also check out the dance moves to Al Kein and Shira doing the sign language for Shema. See if you can follow along!
Cantor Eschler Passover Music Singalong!
This Wednesday Cantor Eschler went LIVE on the Temple Beth Ami Facebook page. Check out some of the awesome songs and sing along from the comfort of your home!
Each Wednesday at 10:30am check out Cantor Eschler's LIVE Facebook streams on the Temple Beth Ami Facebook page. Chag Sameach!
Bingo:
Looking for even more fun during the Seder?  Download and print the attached Passover Bingo Card to play during the Seder. As you go through the Seder, mark off each action you have accomplished until the Bingo card is full!
If you want to play a traditional game of Passover Bingo, print out the cards to play at home and email them to family members so you can play long distance too!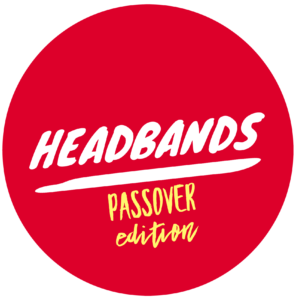 Headbands:
Do you love the game Headbands?  Never played and want to try something new?  Check out the Passover Edition of the Headbands game.  It walks you through step by step how to play at home.
*Hint: If making the headband itself is challenging or you don't have all the materials, you can still play by holding the given headbands card on your forehead!
The Seder Table:
Looking to decorate your Seder table? Print these Four Question place cards for your Seder! Each card has a different one of the Four Questions on it and a blank space to color and draw your own interpretation of the questions.
Make a Cup for Elijah:
Here's how!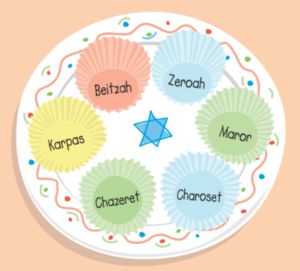 Make your own seder plate: 
Its fun to make the table look special and different each year for Passover. Click the seder plate for directions on how to make your own seder plate at home!  It's fun and easy!
Make an Afikomen Cover/Pouch:
Put on your creative hat and get ready to make an Afikomen cover/pouch with Mrs. Treby!  After watching the video, read the instructions below to make a matzah holder for your seder.
During the seder, we take 3 pieces of matzah and the host breaks the middle piece. Part of it, called the afikomen, can be put into your new pouch and hidden for the children to find during the seder. It's a lot of fun!  If you want to make something decorative to put all three pieces of matzah in you can follow the directions below. 
Stack 4 sheets of construction or copy paper together. Have a grown up use a hole puncher or help you to punch holes around 3 sides. With a long piece of yarn, shoe lace, curling ribbon or string pull the string through the holes so the stack of paper can stay together. (You can also staple it around the edges, if you prefer.)  Now you have a section for each of the 3 pieces of matzah. The center sleeve will be used for the middle matzah, which is the Afikomen!   You can put the pouch you made with Mrs. Treby in there too!  Decorate the front and back outside pages of your matzah holder with Passover pictures.  You can write the word "matzah" too!
Share Your Seder Artwork:
Post pictures on our Machane TBA Facebook page of all of the beautiful artwork you have made for your Seder!
Make an easy and delicious charoset for Passover with Mr. Rosenstock, Machane TBA Cooking Specialist.   Here's the recipe.
"Wherever you go, there's always someone Jewish…" There are Jewish people all over the world this Passover making their own recipes for charoset. Just like Rabbi Pokras shows us at the beginning of the Machane TBA BaBayit page this week, trying new traditions from other parts of the world can be a lot of fun!
Check out these 22 new nut-free charoset recipes. 
Post pictures on our Facebook page if you try a new recipe you really like! We can't wait to hear about all the yummy new charoset everyone gets to try!
You can buy matzah in the store or you can make your own! Enjoy making matzah making with Ms. Rosenblum.
Here's how you do it:
1 cup of flour
3/4 cup water (not all to be used)
475 degree oven, preheated cookie sheet on top shelf. 
Bake  2-3 minutes on each side.
Moses and the Plagues:
Which plagues do you see in the picture? Do you remember how to say the Hebrew word for frog and what letter it starts with?
Passover Maze:
Here's an Afikomen Hunt maze – Hopefully you will find the Afikomen at your seder! Make sure you watch the grown ups carefully!
What's on Your Seder Plate?
Do you remember the names of all the items on the seder plate?
Chadshot Kids Corner:
Look for the Machane TBA pages (pages 9 & 10) in the April Chadashot online!  There are photos from Machane TBA winter events and a Kids Corner Passover page!
We are working towards having a very special Ask the Rabbi session. We NEED your help! Take the next week and think about questions you would love the Rabbis to answer. It can be a question about Passover or another Jewish holiday, or a personal question like what their favorite food is.  Email your questions to Elaine to be entered into a raffle. 
If you win the raffle you will be featured on our video for the Ask the Rabbi!
Would you like to see the Machane TBA BaBayit pages from previous weeks, or for another grade level?
It's all on the Machane TBA home page!