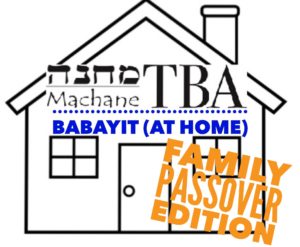 Welcome to Machane TBA BaBayit Family Passover Edition – Part 2
Welcome to Machane TBA BaBayit Family Passover Edition – Part 2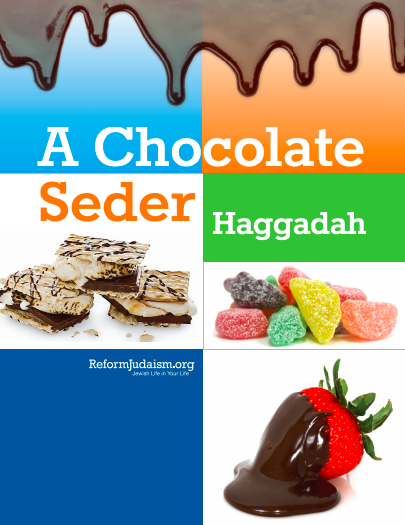 Chocolate Seder:
A SWEET new tradition! Check out the URJ's awesome edition of the Chocolate Seder. Continue with the order of the Seder and sharing the story of Passover in a fun new way!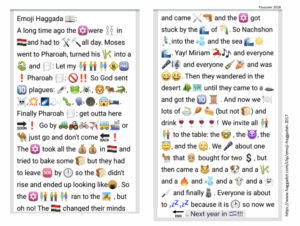 Emoji Haggadah:
One of the biggest mitzvot of Passover is the retelling of the story of the Jews in Egypt. Click on this fun Emoji Haggadah to share the story.
I Have a Voice:
At Passover, we remember how Moses stood up to Pharaoh to save the Jewish people. Each one of us has the same power to create change in our world!
The song I Have a Voice, reminds us:
We have a voice
Our voice is powerful
Our voice can change the world!

* Special rap by Benny P included in this awesome edition!
As we celebrate Passover, watch this video and follow Machane TBA yoga instructor Tamar Lewkowitz in some Passover yoga! Enjoy learning the Passover story while trying new things and moving your body in new ways!
Take a picture and post on our Facebook Page so that we can see all the awesome yoga you've done!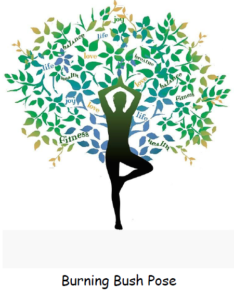 Interested in doing some more fun Passover Yoga? Check out this step by step guide to the Passover story through yoga poses!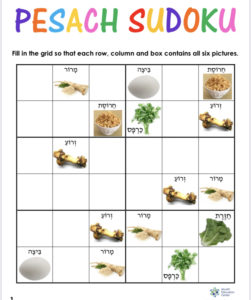 Pesach Sudoku
This fun Passover-themed brain game is sure to make you smile!  Good luck – its pretty tricky!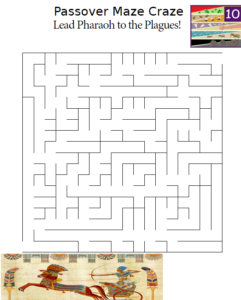 6 Levels of Passover Mazes:
Level 1 (easiest)
Level 2
Level 3
Level 4
Level 5
Level 6 (most challenging)
(Solutions at bottom of page)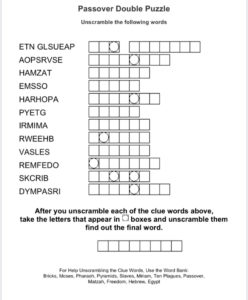 Passover Double Word Scramble:
See if you can unscramble the words to find the last one! If you need help you can use the word bank.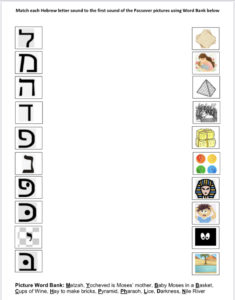 Hebrew Letter Passover Matching
Do you remember the sounds the Hebrew letters make? Match each Hebrew letter sound to the first sound of the Passover pictures
The Pyramid Challenge:
Mrs. Treby has a challenge for you! It's The Pyramid Challenge!  The Hebrew slaves were forced to build pyramids but we hope you will do this just for fun, so get creative and think BIG! Post pictures of your fabulous pyramid creations on our Facebook page or send them to your teacher!
The Manna Hunt & Craft Game:
Have you ever played Manna Hunt? Do you even know what Manna is? Mrs. Treby will tell you all about it!  After you have pictures of all your favorite foods and items that you need to take on a desert trip, you're ready to play. If you want to keep score, you can give one point for each food item everyone gathers and take away a point for every nonfood item! Whoever has the most points at the end is the winner!   See the 2 videos below to participate!

Cardboard Tube Moses Craft: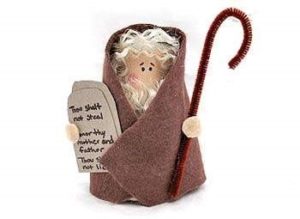 Turn a cardboard tube into a model of Moses!  Then use your finished Moses craft during Sunday School, a Passover celebration, or other religious events to help kids learn the story of Moses. This is a fun crafting activity to teach children about the story of Moses.  Learn how.
Passover Joke:
What's the best kind of cheese to eat during Passover?
(Answer is at bottom of page)
Passover Cupcakes:
Root vegetables are an important part of the Passover meal, in part because these hardy vegetables are easily grown in Eastern and Western Europe and Russia—where approximately two-thirds of the modern-day Jewish population originated. These potato yogurt cupcakes are a healthy and delicious treat to be shared during this special Jewish holiday.  
Matzah balls that always float!
Machane TBA Cooking Specialist Mr. Rosenstock shows us how to make Matzah balls from scratch!   Here's the recipe.   
Sunday teacher Max makes matzah!
Want to make some Matzah at home this year? Check out this super easy fun recipe and video to make it right at home! Chag Sameach
We are working towards having a very special Ask the Rabbi session. We NEED your help! Take the next week and think about questions you would love the Rabbis to answer. It can be a question about Passover or another Jewish holiday, or a personal question like what their favorite food is.  Email your questions to Elaine to be entered into a raffle. 
If you win the raffle you will be featured on our video for the Ask the Rabbi!
Would you like to see the Machane TBA BaBayit pages from previous weeks, or for another grade level?
It's all on the Machane TBA home page!