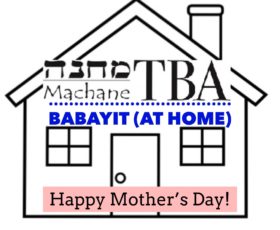 Greetings from L'Mala Supervisor Lisa Goodman and L'Mata Supervisor Elaine Prigal! Special treat!
In honor of Mother's Day, lets practice the Avot and Imahot. This prayer gives honor to our ancestral fathers and mothers.
WOW! This past Sunday was so amazing! How cool to all be together for T'filah.  It was so nice seeing all of your ruach (spirit).  For more with Cantor Larry, Ben and your teachers, check out this week's T'filah celebrating Shavuot and including a new puzzle tov!
Thank you so much for submitting all your questions for Ask the Rabbi.  In the videos below, Rabbi Weiss and Rabbi Pokras take some time to share their answers to your questions. Learn more about what they have been doing at home during this time, why they became Rabbis and MORE!
Many of our L'mata students got to participate in a special Kehillah Event where we made this delicious Broccoli Cheese Soup with Mr. Rosenstock.  Now you have the video and recipe to make at home!  You can make this recipe vegetarian or kosher by using vegetable stock instead.
Mr. Rosenstock shares his families favorite kugel recipe.  Kugel is a very delicious Jewish food. There are all different kinds of kugels you can try to make at home.  This one is sweet, some are savory.  Here's the recipe!
One of the choice chugim (electives) offered for L'mata students is Drumming.
In this video Ben teaches some of the begining drum rhythms. After learning these, Ben walks you through how to use your new drumming skills with some of the songs we sing in T'filah on a Sunday morning.
Stones with Heart:
Mrs. Rubinstein, our wonderful art teacher, has created a special art project for our 3rd-6th graders.  Read about the importance of rocks in the Jewish tradition. Rocks help us symbolize the permanence of a memory.
We hope you will take a moment to participate in this project as we look towards next year and also as a gift for Mother's Day. These make great gifts for your mom, aunt, grandmother or special female role model in your life. We look forward to seeing all your beautiful art work.
Would you like to see Machane TBA BaBayit content from previous weeks, or for another grade level?
It's all on the Machane TBA home page!
Be our "friend" on Facebook for more content, photos, and fun!