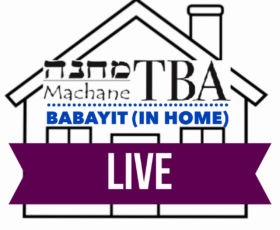 Sunday, April 26, 2020
10:00-10:40 AM
Student Zoom call with 2nd session class
Check email for Zoom links from Machane TBA and your child's teacher.
Welcome to Machane TBA BaBayit LIVE Week 2 from L'mala Supervisor Mrs. Goodman and L'mata Supervisor Elaine Prigal.   
Please view for instructions!
L'mata Students:
Watch this Ten Commandments video to prepare for your Zoom call
Ask the Rabbi:
We are working towards having a very special Ask the Rabbi session. We need your help! On Sunday, come to your Zoom call with your L'mata teacher with a few questions you would like to ask the Rabbi's. You can ask about their favorite book or about a specific bible story. We look forward to hearing your questions!
Would you like to see the Machane TBA BaBayit content from previous weeks, or for another grade level?
It's all on the Machane TBA home page!
Be our "friend" on Facebook for more content, photos, and fun!