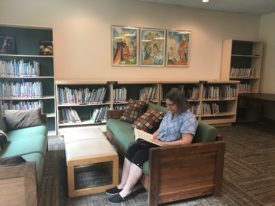 Library
Looking for a quiet space to read a book, do some work or enjoy a cup of coffee? Stop by the Temple Beth Ami Library and enjoy its window view, large selection of books for all ages, free WiFi, and a Keurig machine.
The Temple Library is part of a larger function space housing both the Library and a meeting room/lounge.  The books in the Library are arranged according to the Weine classification code, a decimal system specifically for Jewish Libraries.  A large chart on the bulletin board to the left as one enters lists all of the categories and in which bookcase the books can be located.  Above each bookcase is a sign indicating which categories are located in that particular bookcase.  The center bookcase contains the CD and DVD collections. A complete set of the English translation of the Talmud is in a separate bookcase between the two rooms. 
The meeting room space houses the Children's collection.  These also are arranged by Weine classifications with signs to indicate the individual categories.
To borrow a book, just fill out the information on the sign-out sheet on the the table in front of the bulletin board.