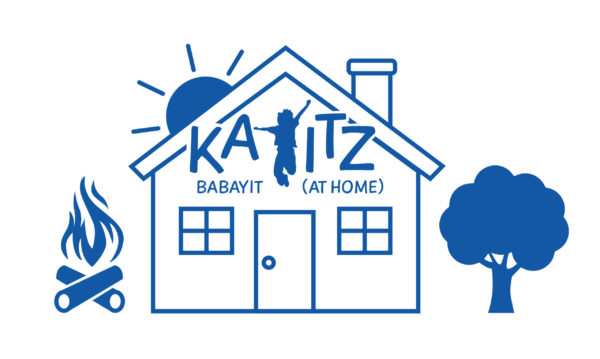 WEEK 8:
AUGUST 9-14
THEME: MACCABIAH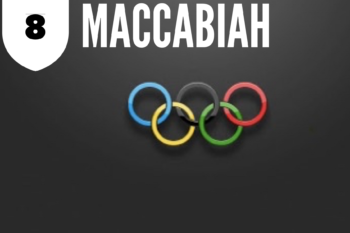 We miss seeing you!
Please take pictures of yourselves doing these activities and post them to our Facebook page, or email us!
Activities are intended for a wide variety of ages and stages.

Rabbi Pokras shares the Hebrew word of the week: Maccabiah.

ART TO CELEBRATE ISRAEL:
Create a beautiful piece of art to celebrate Israel – the birthplace of the Maccabiah Games!   Geared towards preschool through first grade learners, this is an activity using easy to find materials that the whole family will enjoy.  Here are the instructions.
DESIGN A TEAM UNIFORM:
The Maccabiah Games are an opportunity for communities and teams to come together for epic sports challenges!  Pretend you are a team captain for a team and design your own team uniform!   Here are the instructions.
COLORING PAGES:
Colorful posters cheering on athletes and teams are seen all over the Maccabiah games!  Color your own games image!  Hint: Print and color the winner's medals for your movement activity this week!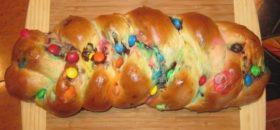 CHALLAH RECIPE:
Here is our special Kayitz challah recipe.  Each week there will be a special ingredient(s) suggested which has to do with the theme of the week!   
THIS WEEK'S SECRET INGREDIENTS:  
Add in different colored M&M's representing the different teams in Maccabiah coming together to create a delicious Maccabiah Challah!
ISRAELI COUSCOUS:
Make delicious Israeli couscous.
Ingredients:   Israeli couscous, water, salt, sweet potato, cranberries, oil, lemon juice, mint, pine nuts
ISRAELI SALAD:
Have an adult help you with the chopping of the vegetables for this light and tasty salad.
Ingredients: cucumber, tomato, bell pepper, onion (if you like), parsley, salt, olive oil, and half of a lemon.

GAGA:
This week, we'll explore one of our favorite Israeli camp games…Gaga!  The best way to describe GaGa is as a "safer and more exciting" version of dodgeball.  Let's get started!   Here's how to play.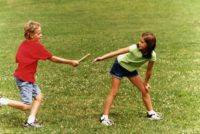 WEEKLY SPORTS CHALLENGE:
Each week, we will challenge you with a different sports-related activity.   Take a picture and post it on our Facebook page or email us and we'll share it on our Facebook page.
With flowers in full bloom and the days long and warm, we have a perfect opportunity for outdoor fun. For this weeks sports challenge, get together with family and friends and try these 3 hilarious relay races!  You can even design your own medals for the winners!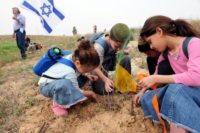 JEWISH VALUES:
The Maccabiah Games in Israel is a huge sports event! Connecting with and helping people of Israel is a Jewish value called Ahavat Yisrael, love of Israel. One way to help is by donating money (the Jewish value of Tzedakah) to organizations like the Jewish National Fund. You can do sports-related challenges with family and friends to raise money or if you get allowance, you can save some and put it in a tzedakah box until you're ready to make your donation. The people who work for JNF help Israel in many different ways and you can decide what projects you want your tzedakah to go to such as: education, the environment, research or helping people with diverse needs.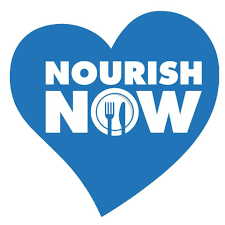 THEMED FOOD DRIVE: 
Do a mitzvah each week with your family!  Every Friday we will be collecting food for a themed food drive at Temple Beth Ami's main entrance from 9:30 AM – 12:00 PM. Donations will go to Nourish Now. 
This week, the theme of the food drive is Maccabiah. We will be collecting dried fruits and berries, nuts and seeds, lentils, quinoa and edamame snacks on Friday, August 14.
In order to keep everyone as safe as possible, please follow these guidelines for a contactless dropoff: 
– Cars should line up in the carpool lane.
– If there are other cars ahead of you, please wait until they drop off their donation and leave before you exit your car.
– Please wear a mask and maintain appropriate social distancing when you are outside of your car.

TIC TAC TOE WITH ROCKS:
When we have Maccabiah at camp there are many different kinds of competitions. This awesome video show you how to make your very own Tic Tac Toe game out of rocks you find in nature. Once they have dried, see if you can win a round of Tic Tac Toe! Good luck!

WEEKLY-THEMED BINGO:
Each week our campers can look forward to playing a game of Bingo with the week's theme, just like we do on Shabbat at camp!  Bingo is a fun way we have been having small competitions all summer. Enjoy this Olympics-themed bingo this week.
Click the image to view and print all of the Bingo cards.

By My Brother's Side by NFL Superstars Tiki and Ronde Barber
Mrs. Fein reads Zishe the Strongman, a true story about a man who was as kind as he was strong!
BOOKS ABOUT  SPORTS AND SPORTSMANSHIP:

Ages 2-4 Years Old –
Little Soccer board book by Brad Herzog (Rated 5 stars on Amazon)
Dance (interactive board book) by Matthew Van Fleet (Rated 4 1/2 stars on Amazon)
Ages 4-8 Years Old –
She's Got This by Olympic Gymnast, Laurie Hernandez (Rated 5 on Amazon)
Howard B. Wigglebottom Learns About Sportsmanship: Winning isn't Everything by Howard Binkow (Rated 5 stars on Amazon)
Ages 5-11 Years Old –
If Winning Isn't Everything, Why Do I Hate to Lose? by Bryan Smith (Rated 5 stars on Amazon)
Ages 6-9 Years Old –
Ballpark Mysteries: The Dugout boxed set by David A. Kelly (Rated 5 stars on Amazon)
Ages 7-10 Years Old –
LeBron James: The Children's Book: The Boy Who Became King by Anthony Curcio (Rated 4 ½ stars on Amazon)
Magic Tree House: Soccer on Sunday by Mary Pope Osborne (Rated 5 stars on Amazon)
Weird but True Sports: 300 Wacky Facts about Awesome Athletics by National Geographic Kids (Rated 4 ½ stars on Amazon)
Ages 7 and Up –
Stars of Women's Soccer by Illugi Jokulsson (Rated 5 stars on Amazon)
DON'T FORGET:

jrKayitz (incoming 3's & 4's) 12:00-12:20 PM
Kayitz (incoming K-1st graders) 12:30-1:00 PM
Kayitz (incoming 2nd-5th graders) 1:15-2:00 PM
Zoom link sent each week through the weekly Kayitz email.


Fridays at 10:30 AM through Facebook LIVE
QUESTIONS? 
REACH OUT TO THE MACHANE TBA/KAYITZ TEAM: