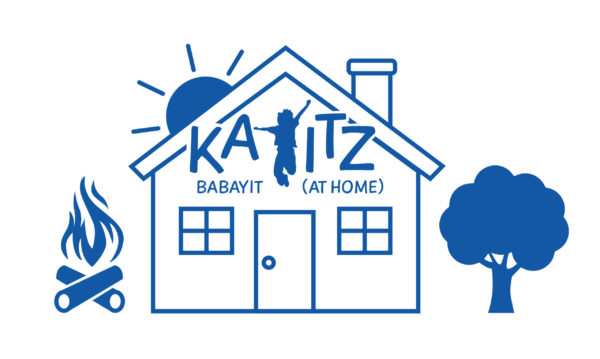 WEEK 2:
JUNE 28-JULY 3
THEME:
AMERICA THE BEAUTIFUL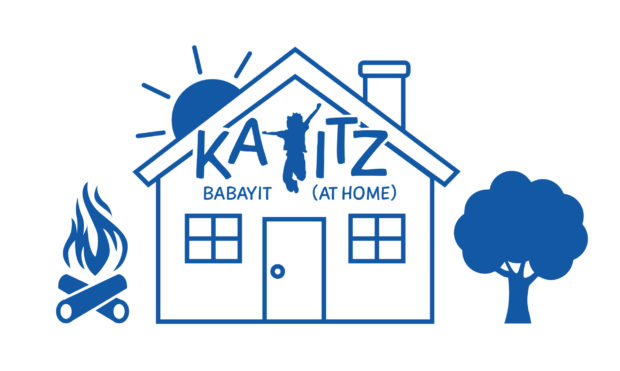 WEEK 2:
JUNE 28-JULY 3
THEME: AMERICA THE BEAUTIFUL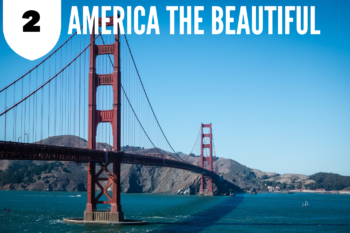 We miss seeing you!
Please take pictures of yourselves doing these activities and post them to our Facebook page, or email us!
Activities are intended for a wide range of ages and stages.

Rabbi Pokras shares the Hebrew word of the week: Aretzote Habrit.
How do we say "USA" in Hebrew?  The Rabbi shows us the way!

HOMEMADE RIBBON WANDS:
Celebrating with family friends and seeing fireworks are some of our favorite things about 4th of July celebrations! Celebrate this year by making red, white and blue ribbon wands
Click the image to view and print the instructions.
DREAM CATCHERS:
A dream catcher is a Native American folk object typically hung near a person's bed to "catch" any bad dreams in it's web. Our country is amazing because it brings together people of all faiths and backgrounds with lots of different dreams for the future. We can't wait to see your beautiful dream catchers, and we hope all your dreams come true!
Click the image to view and print the instructions.
COLORING PAGES:
Need a break from the sun? Find some shade – and colored pencils! – and check out this week's America the Beautiful coloring pages! Send us the photos of your works of art!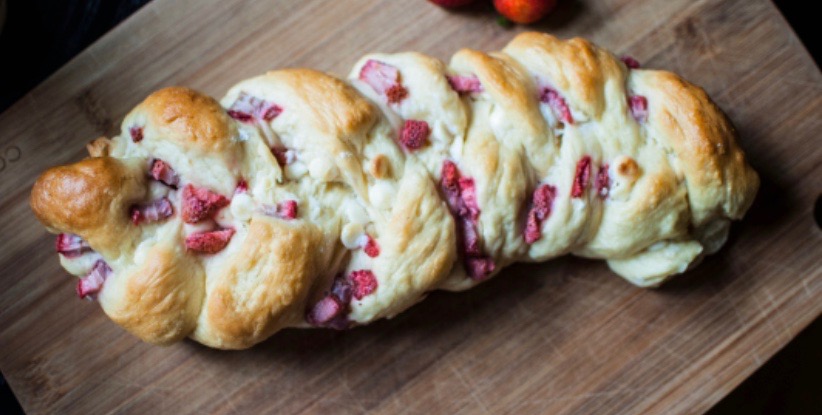 CHALLAH RECIPE:
Here is our special Kayitz challah recipe.  Each week there will be a special ingredient(s) suggested which has to do with the theme of the week!   
THIS WEEK'S SECRET INGREDIENTS:  
Cut up and wash fresh strawberries and blueberries and add them to your Challah dough. Sprinkle powered sugar on top of your Challah when it comes out of the oven to make a Patriotic Challah!
CHOCOLATE CHIP COOKIES:
All over America, kids (and adults) love chocolate chip cookies!   Here's how to make them. 
Ingredients: Butter, sugar, brown sugar, flour, baking soda, salt, eggs, vanilla, and chocolate chips.
PATRIOTIC MARSHMALLOWS:
Try making these yummy patriotic marshmallows for a fun dessert.
Ingredients: Package of blue Jello, package of red Jello, large marshmallows, toothpicks and water.

BBQs and family fun are two of the best parts of celebrating Independence Day! We've included everything you need for a Fun Family Field Day! 
Here are the instructions.
WATER BALLOON VOLLEYBALL:
Water balloons are a great family tradition, especially during the hot summer months! Check out this cool summer twist on one of our favorite games…Volleyball!
Here's how to play.
WEEKLY SPORTS CHALLENGE:
Each week, we will challenge you with a different sports-related activity.   Take a picture and post it on our Facebook page or email us and we'll share it on our Facebook page.
This week the challenge is a bean-bag challenge!  Here are the instructions.

JEWISH VALUES:
The Jewish value Shmirat Ha'adamah means taking care of the earth. Take some time to clean up your street or neighborhood and make sure America stays a beautiful place to live! Ask your parent or guardian and siblings to help! Put on some gloves or use zip-top bags (if you don't have gloves) and don't forget to bring a trash bag. You will make a wonderful difference to help our country!
One of the many ways we can show how much we "Love the Earth" is by making sure it stays clean. Check out this National Geographic resource that lays out how to plan a neighborhood clean up.
As we get ready to clean up our own neighborhoods, enjoy this "Clean Up Pick Up" song with Daniel Tiger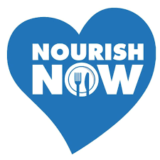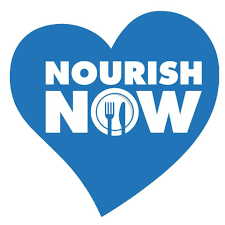 THEMED FOOD DRIVE: 
Do a mitzvah each week with your family!  Every Friday we will be collecting food for a themed food drive at Temple Beth Ami's main entrance from 9:30 AM – 12:00 PM. Donations will go to Nourish Now. 
This week, the theme of the food drive is America the Beautiful. We will be collecting healthy, nonperishable food packaged in red, white or blue boxes/cans on Friday, July 3.
In order to keep everyone as safe as possible, please follow these guidelines for a contactless dropoff:  Cars should line up in the carpool lane. If there are other cars ahead of you, please wait until they drop off their donation and leave before you exit your car. Please wear a mask and maintain appropriate social distancing when you are outside of your car.

Depending on what part of the world you are in, there are different animals. Throughout the summer we will have the opportunity to learn about many of these incredible creatures.
In the United States we have many different kinds of beautiful birds. Click the image to the left to the to see all of our National and State Birds. Then, choose one of the bird feeder projects below to add to your home to see all the beautiful birds that live right here in Maryland.    Click the images below to view and print the instructions.
Check out more camper friendly bird feeder projects here!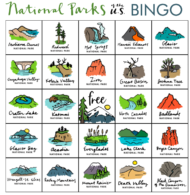 WEEKLY-THEMED BINGO:
Each week our campers can look forward to playing a game of Bingo with the week's theme, just like we do on Shabbat at camp!  Enjoy this United States National Parks Themed Bingo this week with your family as we get ready to celebrate July 4th and all the beauty that our country has to offer!  
Click to view and print all of the Bingo cards.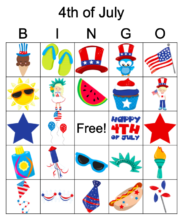 MORE BINGO FUN!
Check out this July 4th themed Bingo with your family! Click to view and print all of the Bingo cards.

MISSION IMPOSSIBLE STYLE LASER GAME:
Using red, white, and blue streamers, create a "Mission Impossible" style laser game. Just avoid touching the lasers!

Listen to Hello America! a board book about a trip across America.
Mrs. Fein reads about The Statue of Liberty by Jen Arena
LET'S LEARN MORE ABOUT OUR BEAUTIFUL COUNTRY:
Ages 2-4 Years Old –
A is for America by Greg Paprocki (Rated 4 1/2 stars on Amazon)
The Night Before the Fourth of July by Natasha Wing (Rated 4 ½ stars on Amazon)
Corduroy's Fourth of July (board book) by Don Freeman (Rated 4 ½ stars on Amazon)
Ages 5-12 Years Old –
Keepers of the Animals: Native American Stories and Wildlife Activities for Children (Keepers of the Earth) by Michael J. Caduto (Rated 5 stars on Amazon) 
Critters for Kids: A North American Wildlife Activity Book by Tom Hunter (no reviews available)
American Girl Baking: Recipes for Cookies, Cupcakes and More by Williams Sonoma and American Girl (Rated 5 stars on Amazon)
Ages 7-10 Years Old –
O, Say Can You See? America's Symbols, Landmarks and Important Words by Sheila Keenan (Rated 4 1/2 stars on Amazon)
The 50 States by Gabrielle Balkan (Rated 4 1/2 stars on Amazon)
National Parks of the USA by Kate Siber and Chris Turnham (Rated 5 stars on Amazon)
Capital Mysteries Series by Ron Roy. 14 books in this early chapter mystery series featuring fun facts and famous sites from Washington, D.C. (Rated 4 ½ stars on Amazon)
DON'T FORGET:

jrKayitz (incoming 3's & 4's) 12:00-12:20 PM
Kayitz (incoming K-1st graders) 12:30-1:00 PM
Kayitz (incoming 2nd-5th graders) 1:15-2:00 PM
Zoom link sent each week through the weekly Kayitz email.


Fridays at 10:30 AM through Facebook LIVE
QUESTIONS? 
REACH OUT TO THE MACHANE TBA/KAYITZ TEAM: