Adult Education
Temple Beth Ami offers a rich variety of Adult Learning Opportunities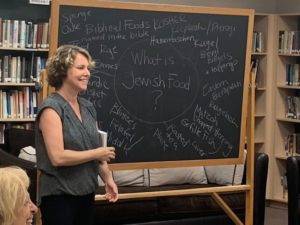 Judaism values life long Jewish learning.  In the Mishna it states, "Leave home and go to a place of Torah.  Don't say the Torah will come to you or that your companions will make it yours. Don't depend on your own understanding."  (Pirke Avot 4:4)
The Torah is called- Etz Chaim — The Tree of Life.  Torah nurtures and sustains us. As we grow into adulthood, our thirst for knowledge grows and changes. Our Torah and our tradition can be the root of our lives, grounding us and drawing us closer to our community, our family, and ourselves.
Saturday Morning Torah Study from 9:00 am - 10:30am
Saturday morning Torah Study is open to anyone interested in lively discussion of our heritage and its roots. You are invited to join a verse by verse examination of the Torah, a close reading of the text where all opinions and commentaries are encouraged. There is no cost to participate and beginners are always welcome!
Live & Learn Daytime Series
All are invited to "Live & Learn" on Tuesday mornings each month (10:30 am – 12 noon) to explore a variety of topics, led by different facilitators.  Each topic typically runs for 2-3 Tuesdays.  There is no charge to attend.  Generously supported by the Sally Kera Live & Learn Fund and the Torah Endowment Fund.
June 2019

Jen Miller, facilitator of "Culinary Conversations" Live and Learn class (June 2019) Food nourishes bodies, satisfies souls and unites communities.  Join Jen Miller, chef and wellness coach, for community-building conversations in which we'll explore Jewish culinary traditions and our lived experiences of them.  A delicious treat will be provided each week, but please RSVP to Shelly (SLG@bethami.org) in advance, so that we'll have enough for everyone!

Find out more »

July 2019

The books of Prophets are the longest section of the Jewish Bible (TaNaKh).  In this text-centered class,w e will dive into the world of the prophets, explore why this is the longest part of our bible and learn why our parents wanted us to be doctors, lawyers and accountants instead of prophets!  No charge to attend; all are welcome.

Find out more »

August 2019

Change doesn't happen all at once.  Once must prepare to be in a position to take advantage of opportunities when they present themselves.  The 30 days before the high Holy Days, which coincide with the Hebrew month of Elul, is one such period.  Come join Cantor Eschler in a 3-part series on exploring productive ways to personally engage with the Book of Life. No charge to attend; all are welcome.

Find out more »

+ Export Events