Women of Temple Beth Ami (WTBA)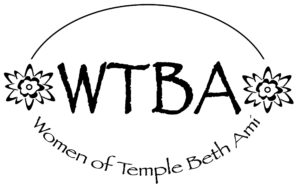 Women of Temple Beth Ami (WTBA) is a warm and welcoming community of women of all ages and interests dedicated to enhancing and supporting Temple Beth Ami through special programming, financial support, and the involvement of women in the life of our congregation.
Download the WTBA Membership Form or Sign Up Online. Thank you for your support!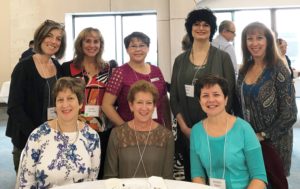 Join today!  It's always the right time to join WTBA. Support us and become involved in your Jewish community. New women members of the congregation are given a complimentary membership from the time they join the Temple until the following June 30th.
Our ongoing activities, special events and social action initiatives offer Temple Beth Ami women the opportunity to develop friendships and a sense of community. We learn about and practice Judaism, explore important issues, and contribute to the well-being of Temple Beth Ami and the larger community.
Events
Membership Brunch – Thank you to everyone who helped us welcome Leslie Brier, Women of Reform Judaism representative to the United Nations. We all enjoyed her talk about her experiences at the UN. Here is Leslie's PowerPoint presentation: Leslie Brier, 9-16-18 and here are her handouts. 
Drop-in Mah Jongg Game – Mondays from 1:00 pm – 3:00 pm when the Temple is open. No charge. We play for fun and not money. Lessons available. Contact Rachel Maryn with any questions and to be added to the email list.
Yoga classes – Sundays, Sept. 23, 30; Oct. 7, 14, 21, 28; Nov. 18, 25; Dec. 2, 9, 16, 23 (2:00 – 3:00 pm) – Stretch and Strengthen yoga for all levels. Taught by TBA members. $72 for WTBA and Brotherhood members; $84 for non-members. RSVP online by 9/16. Contact Monya Cohen for more information.
Book Club – Tuesdays – Oct. 2, Dec. 4, Feb. 5, April 2, May 28 (7:30 – 9:00 pm). Contact Terry Steinberg with questions.
Board Meetings – Tuesdays, Sept. 4, Oct. 9, Nov. 13, Dec. 11, Jan. 8, Feb. 12, March 12, April 9, May 14. All WTBA members are welcome to attend.
Manna Food Sorting – Sept. 25 (7:00 pm – 9:00 pm) – Come help sort donated food at Manna. RSVP to Rhonda Gaynor.
Crafts for a Cause – Wednesday, October 10 from 6-9 pm at the Temple. After enjoying a pizza and salad dinner, we will be making warm fleece items to be distributed to the homeless in Montgomery County. There is minimal sewing involved and no prior experience or sewing knowledge is required. WTBA member Debbie Ezrin, Director of Development and Communications at the Montgomery County Coalition for the Homeless, will share information regarding homelessness in our area and ways in which we can help to alleviate this problem. Please RSVP to Jeanne Kahn by 10/5, and she will email you a Sign Up Genius invitation to bring some supplies.
Ladies Night Out – Tuesday, October 23 at 6:30pm at Not Your Average Joe's in Kentlands. Not Your Average Joe's will donated 15% of all purchases (excluding alcohol, tax, and gratuity) back to WTBA! This is a great opportunity to relax and socialize in a fun place. NYAJ's features "creative comfort food" with several gluten-free options. RSVP's are required to help the restaurant plan for our special night out. Please RSVP to Rhona Arbit by 10/16.
____________________________________
Leadership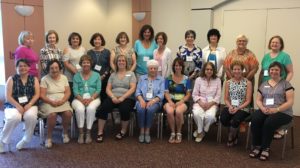 WTBA is a volunteer run organization and we welcome your involvement in our leadership and on committees. Please contact Rhona Arbit to learn more about volunteer opportunities and to share program ideas.
Judaica Shop 
Volunteers are needed to help the Judaica Shop to be successful. Working in the shop provides wonderful opportunities to meet new people and chat with old friends. We're asking for only two hours a week, every other week, or each month. Please contact Jeanne Kahn to volunteer.
Kippot Orders 
Attention B'nai Mitzvah families, brides and grooms! Please order your kippot through WTBA. We have negotiated lower prices and will pass on that savings to you. Just follow these easy ordering instructions. For more information, please contact Michelle Freedberg.
Gift for Newlyweds  
WTBA provides a gift of the book,  On the Doorposts of Your House: Prayers and Ceremonies for the Jewish Home to any temple member or child of a temple member who gets married. Please email Barbara Ranhand with contact information so we can send a copy of this wonderful book to the happy couple.
We belong and you do too!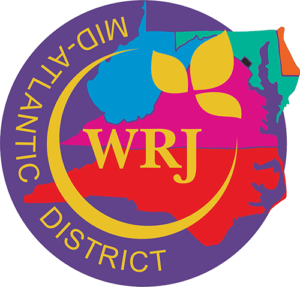 WTBA is a member of  Women of Reform Judaism (WRJ). Founded in 1913, WRJ represents 65,000 members in nearly 500 sisterhoods and 8 district federations. We help support the work of the Reform Jewish movement and its institutions: The Union of Reform Judaism, Hebrew Union College/Jewish Institute of Religion, ARZA, and the World Union for Progressive Judaism. Through the YES (Youth, Education and Special Programs) Fund, we support rabbis, cantors, and educators in North America, England, Germany, South  America, and Israel; the youth of our Movement; nursery schools, social justice projects, and bat mitzvah programs in Israel; summer camp and early childhood educational programs in the Former Soviet Union; and many others throughout the world. WTBA is a sisterhood of the WRJ Mid-Atlantic District.
Citation from the MD General Assembly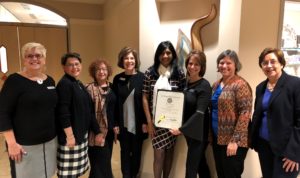 WTBA has received a citation from the Maryland General Assembly with congratulations for our work in building a stronger community.  The citation reads:
"Be it hereby known to all that sincerest congratulations are offered to The Women of Temple Beth Ami in recognition of a strong dedication to public service, providing for the underserved, and working to empower communities."
The citation was formally presented to WTBA by Maryland Delegate Aruna Miller (15th District) at the November 2017 Spirit of Shabbat service. In her remarks, Delegate Miller highlighted WTBA's longtime Tikkun Olam (repairing the world) projects: providing meals for the Interfaith Works Women's Center, donating items to the Montgomery County Office of Child Welfare Services for children entering emergency foster care, our Crafts for a Cause programs, and support of the Temple and Women of Reform Judaism. The citation was framed and hangs just outside of the Judaica Shop. We are very proud to have received this honor! Thank you to Rabbi Pokras and Cantor Eschler for helping us warmly welcome Delegate Miller at the service.
Mazel tov to WTBA for winning the Richard Sternberger Award at the WRJ Mid-Atlantic District Convention in October 2016! This award was presented to a Sisterhood who has facilitated a unique or highly effective program or project in the field of social justice (hunger, homelessness, etc.) during the biennial period of 2014-2016. WTBA won this award for facilitating the establishment of a Days for Girls team. Days for Girls is an international non-profit organization that makes and distributes sustainable sanitary supplies for girls and women in developing countries. Our Rockville, MD chapter, like Days for Girls teams and chapters around the world, uses culturally sensitive, colorful materials to sew high quality items, which become part of complete hygiene kits.  These kits are distributed world-wide and and enable girls and women to remain in school and at their jobs, helping to break the cycle of poverty. For more information about the Rockville Days for Girls chapter, please contact Rhona Arbit.
Congratulations also to WTBA Board Members Jeanne Kahn for winning a Woman of Valor award, and to Melissa Bauman for winning an Emerging Leader award at the district convention. We are very proud of their accomplishments!