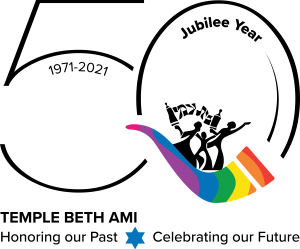 Jubilee is described as the special year following the end of seven cycles – the Jubilee year – which is the 50th year. The word 'jubilee' comes from the Hebrew word yovel, or ram's horn, which was used to signal the beginning of the jubilee or the 50th year. In modern times, a golden jubilee marks a 50th anniversary.
"Proclaim liberty throughout the land to all its inhabitants. It shall be a jubilee for you.."
(Leviticus 25:10)
In October 1971, seven couples met to establish a Reform Jewish congregation in northwest Montgomery County, and in November, the congregation's first Shabbat service was held at Ritchie Park Elementary School.
50 years later, Temple Beth Ami remains a vibrant congregational community, and it's time to celebrate!
Please take a few minutes to watch this incredible video with an overview of our exciting celebration plans featuring TBA's past presidents and current president.
SAVE THE DATES!
More special events will be added throughout the year, so check back on this page and in your TBA emails for more information. 
March 20, 2022 – Purim Palooza Family Celebration
April 30, 2022 – Adult Gala Celebration